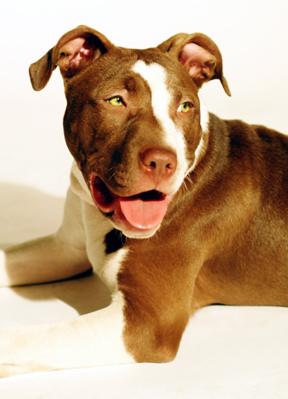 Update from new family:
Buster is doing wonderfully. He is spoiled rotten and we love him very much. He loves to lay on the couch or in bed right between my husband and I to watch tv with us. He is a snuggle bug as well. My husband works nights so Buster always sleeps in the bed with me at night, and he always is laying right next to me even though he has a whole king size bed to spread out in. He loves people and just likes to lick on them if they will let him. He does this to all his dog friends too. His best dog friend is Molly who is a German Shepard mix who comes over several times a month to play with him. Her mom and I are best friends so it worked out well that the dogs get along so well.
He is not the most energetic dog, but we're not the most active people either so it works out. He has a huge back yard to play in but usually just goes out for a few minutes and is ready to come back inside. When we take him on a walk he always starts out in front of us but by the end is behind us. Both sets of grandparents were hesitant when we told them about Buster but since getting to know him have fell in love with him. One set of grandparents live in KC and he goes with us over there all the time. Three weeks ago he stayed the weekend because we had to go out of town to a wedding and he had so much fun. All their neighbors love him and are always saying hi to him when we come over. The other set of grandparents live out of town and he always comes with us when we visit. He enjoys going there because grandpa buys him special treats all the time. I can't say enough good things about him. He has had to be in time out several times but nothing we can't handle. The cat and him are even starting to hang out in the same room together.
Buster is great with kids, and our one and a half year old nephew and him are best friends. Anytime we come to visit or they come to our house the two of them just run after each other. If Buster goes outside my nephew will stand at the glass door until he comes back inside. It is so cute. Buster is always gentle with all kids, especially our nephew.
Libby
More Photos
My Story:
Nicknames:
Buster Brown, Downtown BB, Little man, Brown Sugar, Mr.B, Sassafrass, Gooffball
Interests: Playing with my foster brothers, squeaky balls, playing fetch, running like the wind in a big wide open area (then suddenly faling down, cuz I 'm still growing into my legs.
PetPeeves: I'm a lover not a hater, but I can get sassy when I want to play and the other dogs dont want to. This is
the only time I bark. Then I resort to chasing my tail.
My ideal day: Wake up early and eat. I cant stand it when everyone wants to sleep in. There is so much to explore! I love life and want to see it all through
my beautiful crystal green eyes. I love to eat! I would eat a whole bag of food if I was allowed to. If given the chance, I wil eat all the food out of everyone else's bowl. All my other brothers and
sister let me do it too, cuz I'm so sweet! I love myfoster brother Piglet and want to be next to him at all times. He plays with me the most and shows me the ropes. I love to steal any toy he is curently playing with. I have figured out how to get anything I want, just because I am so sweet. Ideally, I would like tobe in a home with other dogs. I need them for guidance and playmates. I would prefer a younger dog that has as much energy and interest in playing as I do.
Dont get me wrong I love the peeps too! I am very eager to please. Mostly I just want to be loved, but the food motivation helps too. Training has been going very well. I know sit and down and am walking very well on leash (especially with a pinch collar)
Like I said, I am so incredibly sweet that my nick name is Brown Suga. I would do well in a home with children due to my mellow nature and sweetness. I probably would even do well with cats. I just kinda go with the flow. I can pretend like I'm tuff when
I'm playing with the big boys, but only as much as they'll allow me to.
I am crate trained and actually go in it on my own when I am tired or I know it's the end of the night. I go in my kennel wilingly, especially when it's time to eat. Even when someone else in the house gets in trouble I go in my own kennel to show them how to be
good and take a time out.
Notes from my foster mom:
well he's pretty much said it all. quite a self actualized individual for being so young. This little pit bull/bird dog? mix will make a great family dog and great companion for humans and animal alike. I really think he would love a child to play with him and or another dog. The only thing that he left out is that he snores (i havent told him and he cant hearhimself when he sleeps)