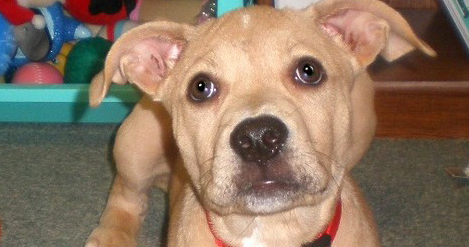 Share me!
Location –
Fostered by Holly Hendricks.
Weight –
Tiny
House Manners –
Duncan is learning house breaking and kennel training.
Children –
Yes, good with children

Other Pets –
Duncan is getting lots of socialization with other dogs.
Sponsorship Status –
Sponsored by Holly Hendricks
Talk about a teddy bear! Duncan (a.k.a. Dunky-doo-doo) is just a pup at 11 weeks and he melts into your arms like marshmallow on a smore!  He is learning to get along with cats, dogs and kids alike in his foster home.  Although he can be somewhat serious at times, don't let him fool you!  Duncan is a blast to play with and aims to please!  Duncan is a lovable hunk of play-doh ready to be molded into the perfect family member!
From Duncan's foster mom 10/13/11: Duncan is making great progress. He scratches at the door to go out and has very few accidents. He is getting more comfortable being crated during the day and no longer makes a mess in the crate. He is also much calmer when I get home and sits and waits for me to open the crate. It has been a true pleasure to watch his confidence grow as his world stabilizes.
Sponsored by Holly Hendricks.