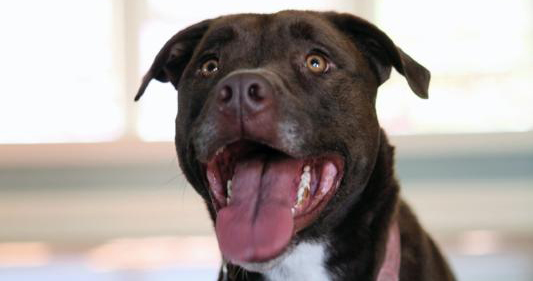 Kyree is one gorgeous gal. Her mom is an American Pit Bull Terrier and her father is an English Mastiff. Kyree originally joined our program in 2007. She was adopted and unfortunately her adoptive home ended up with financial difficulties and returned Kyree.
Kyree is back with her original foster mom where she is doing fantastic. This girl is a total lover and and absolute doll to be around. She gets around great with other dogs and and cats. Make sure and watch her videos of her playing with her foster families dogs.
Kyree is a really special girl who deserves a home that will always be there for her. She's very athletic and would do well in an active home that enjoys the outdoors. She LOVES to run and is very fast. Her foster mom suggested perhaps there is greyhound in her ;)
Please contact us to learn more about Kyree. She'd love to find a forever home of her own.
Location –
Kyree is currently being fostered by Cindy A.
Weight –
60-65 lbs.
House Manners –
Kyree is perfectly house broken and crate trained.
Children –
Great with children
Other Pets –
Kyree is a social butterfuly she is good with other dogs and cats.
Sponsorship Status –
Kyree is sponsored. Thank you Pinups for Pit Bulls!