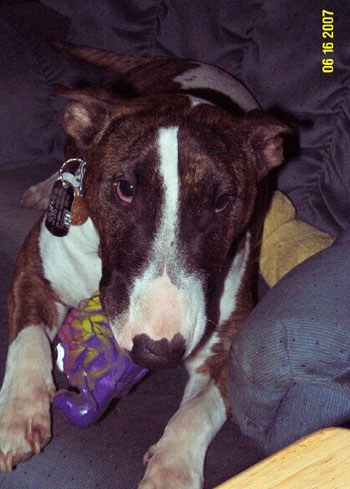 Hi Jennifer,
Sorry to take so long to get a note back to you. Just wanted to give you an update on Daisy along with a few photos…..
She is doing great! Me and her get along wonderfully and we have bonded well. She had her first checkup at the Vet today and got a clean bill of health. Her yearly shots will be given to her in November and she is on her heartworm medication. She also got to see
the groomer and seemed to enjoy her bath and nails clipping. She spends 99% of the time inside with me, going out to run around and play in the backyard a couple of times a day, and then she can do her duty as well. She really has a sweet and wonderful character, as well as funny. She loves the 92 cent squeaky from Wal-Mart, and usually goes thru about 1 a day until she kills off the squeak. She loves chasing it. She intentionally will sit on her recliner and wait til I'm looking, then drop it and wait for me to pick it up and throw it for her. She rarely tires out. Usually it's me first :~)
I changed jobs in March so I wouldn't be away so long from home as at the time that I got her in KC, my company had told me that I could bring her into the office with me. After a week or so – they changed their mind and I was having to leave Daisy in her kennel cage for up to 11 hours a day straight. It really bothered me, so I found a job much closer to home for less money and made sure that I have adequate time to come home during my lunch hour and let Daisy out for 15 minutes. She is only caged about 5 hours max at a time now and she has been very goood about it. Daisy finally learned to shake with her left paw for me – and a few cherry sours:~) She only gets dry Iams and Beneful mixed, a few chewies and that's about
it. No people food, even though you can tell she
wants some.
So, with all that, unless you have any questions, I'll close for now. Please let me know that you received this letter with a reply and also please inform MABBR that Daisy is very loved and adored. I will always have thanks to you and your group for giving me the wonderful opportunity to have Daisy in my life.
With Kind Regards,
Mario in Big Lake, MN
Daisy's family suffered a tragedy and had to give her up. She is desperately in need of a new home!