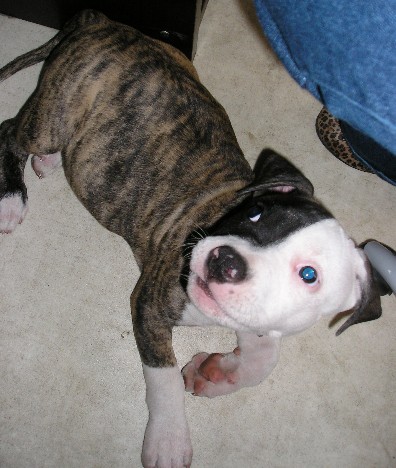 The Bielawski family +2 more
Nicknames: Carl, Carlito, Fatty, Gordo, Chunk, Chubbs, Stomach
Favorites: Sleeping, laying on an A/C vent, eating a bone, eating in general, food, biscuits.
Pet Peeves: Baths, larger dogs stepping on me!
My Story:
Aside from being put in a shelter, having my mom killed when I was teeny tiny and being shuffled around a whole lot… I have had a pretty good life. I am now 8 weeks old and living in a great foster home. I sort of rule the roost, or so the larger dogs like to make me think I do. I feel like I should write a personal ad, to display what I am really looking for…
"Chubby brindle puppy looking for lazy person who doesn't need a hyper dog for football Sundays, BBQs, sleeping in late and companionship. I prefer a home with kids, but I will settle for a home with a really big kid because I need a silly owner who will love me unconditionally"
Thats right folks, I don't like exercise… This isn't to say that I don't need a little everyday. You should see my foster mom put on a collar and leash and try and drag me down the street. They have a theory that if they let me sniff the grass for more than 1 second, I will lay down… and boy are they right! I generally get tired after my 1 block walks, and they only do that 1-2x a week.
I love playing with other dogs, I met a few little dogs at the art fair over the weekend and I didn't even get up off my back to acknowledge them. I am a little headstrong so I will need an owner who values discipline, but a basic puppy class is probably the way to go with me. I play with my foster siblings all the time, they generally ignore me though and I just sleep. Thats okay- as long as I have some interaction with other dogs, I will turn out just great!
Let me just tell you about kids… I love them, I love everything about them… I met so many kids at the art fair, and i got passed around, kissed on the mouth, pet…. and I just adore them. Every time I see a kid, I freak out and my licking machine of a mouth starts going to work on them.
I am about 97% potty trained. I say 97% because sometimes I just cant hold it any longer… and I am just a baby… I'm trying! Honest!
Funny things I do:
I lay like a giant blob on the floor. If you see me, you will think that I have no bones, and you will laugh… dont believe me? Check out my picture section! And I am always laying like a frog butt.