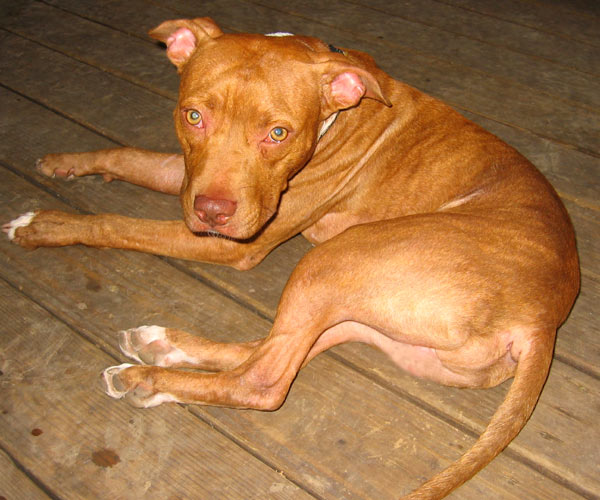 Nicknames:
Mr. Mellow, Grey Poupon, Valium Puppy, Earlio
Interests:
Lounging around, yoga and other relaxation methods, light playing (to keep my figure), 18th Century British Literature
Pet Peeves:
I'm pretty laid-back and calm, I don't really let my fur stand up for much, but I can't stand cold fish and chips!
My ideal day:
Waking up to breakfast in bed, Earl Grey tea of course, a nice jaunt in the yard and attending to my business, an afternoon to cuddling while watching cheesy soap operas, gourmet treats delivered late-afternoon, high tea, light obedience training in the evening, and settling in for a movie and a cold bottle of Ale before bed.
My Story:
There's really no excuse that such a distinguished, sophisticated young lad as myself should have been living in the middle of the city with mange. What if someone, like the Queen, had seen me while I was in my birthday suit? What a royal embarrassment!
Fortunately, when the neglectful guy who "owned" me took my sister and I out one day for a stroll and she was hit by a car, the bloody bloke fled and through an interesting course of events, I landed in the kind of place where a chap of my stature belongs – a lavish foster home with beautiful decor, handsome canines, and treats galore. Heck, I've even got my own spacious flat; compete with TV, radio, fine linens, and within close proximity to my foster parents. Life is grand!
I'm doing exceptionally well with my crate-training, obedience training, and housetraining, but what did you expect with my top notch pedigree? I absolutely adore my new Aunt Grace, a pretty brindle girl who has taken to me like my mum, and even try to make nice with Uncle Dixon, a squatty rednose that looks like a giant version of me, even though he can be a real grump at times. We all get along great and I've introduced them to the finer things in life, like Bangers and Mash and Rugby.
It's been easy to get accustomed to this kind of lifestyle – I mean, it is the kind of place I should have been in all along, after all. My redcoat has grown back and I am no longer naked, the treats are of the finest human-grade quality, the walks are plentiful, the obedience training is fun, and the cuddling and being doted on makes me feel like I'm in a Hollywood film documenting my life story, "From Rags to Riches, Earl Makes His Way in the Big City!" I know Prince William would be very jealous of my pampered lifestyle and if the Queen Mum could see me now!
The only thing missing? The happy ending! Although things are swell at the foster home, it's only a temporary gig. You see, I've got things I want to do, experience, and accomplish. I've got goals and the drive needed to make them come true! I'm currently seeking a loving family or individual who will be sure to maintain my current standard-of-living. (You know, with the treats, love, being waited on, etc.).
Ideal candidates will have plenty of time to cherish me and spoil me. A nice, spayed big sister would even be okay, too!
In return, you will gain a loyal best friend who will be forever grateful. I am fun-loving, easy going, calm, have a great sense of humor, and frankly I'm pretty darn handsome, if I do say so myself. I'm a wonderful little incredi-bull all wrapped up in a little package and ready to go home, much like fish and chips from your favorite takeout!
I do miss my sister, but our foster parents are friends so we get to have frequent play dates. Though we would love to be adopted together, we know it's probably pretty unrealistic so we have a bet going on who gets adopted first. If it's me, I will get a new tweed coat and cap, along with kong stuffed with treats and a little vegemite-hey, I'm only British and have a sophisticated palette. I urge you to apply for me today and God Save the Queen!