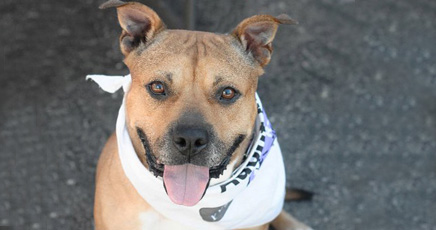 Location –
Sienna is currently being fostered by Emily.

Weight –
60 lbs.

House Manners –
Sienna is fully housetrained and kennel trained.
Children –
Good with children

Other Pets –
Good with most dogs. No Cats.
Sponsorship Status –
Sponsor Needed

Hi, I'm Sienna and I would love to be your new best friend! As you can tell from the pictures I'm as cute as can be. I also come with a personality to match. When you want me to play I am a bundle of energy. When you want to relax I am more than happy to snuggle on the couch with you while you watch TV. I LOVE to give kisses and will always be at the door to greet you (unless, of course, you prefer to crate me while you're gone.) I am perfectly crate trained, by the way!
In my free time I enjoy a good game of tug. In fact, you can use a rope toy to reward me for good behavior. Tell me to do something + I do it = TUG! I love this game so much that I will even bring a toy to you when I want to play and then drop it on command when you ask me (yes, I am THAT good!) In fact, I am such a good dog that in June I earned my Canine Good Citizen award from the AKC. This means that I come when called, sit, down, and stay when told, walk nicely on a leash, and can greet people and dogs while practicing good manners!
When I'm not practicing my obedience training with my foster mom we go out and hand out free kisses and handshakes at community events. (Yes, I shake hands, sit pretty, and roll over on cue!) I just love to show people what a good dog I am and that pit bulls are good dogs, too! Personally, I think I'm pretty good at it but don't take my word – come see for yourself!
Sienna is tan with a black muzzle and white chest and toes. She is approximately 5 years old and has been around many children and dogs. She loves to chase so caution is advised when introducing her to new people and pets.