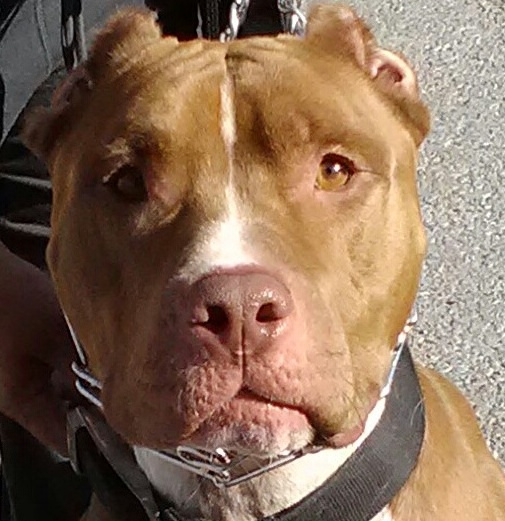 Location –
Fostered by Dawn
Weight –
4 years old, 74 lbs.
House Manners –
Housebroken
Children –
n/a
Other Pets –
Does well with other dogs
Sponsorship Status –
Sponsored by Roger Hollingshead
Titus was surrendered by his owner to a shelter that will not adopt out pit bulls. Even though his owner was told that he would probably be euthanized, he was surrendered anyway. When we found out about Titus's situation, we decided that we could certainly find a place for this gorgeous, ultra sweet boy.
Titus has had some basic training, loves to ride shotgun and so far his interaction with other dogs has been encouraging. Going through the treatment for heartworms hasn't stopped him from being enthusiastic about everything the world has to offer.
Update: 9/29/12
We took Titus to an adoption event today and we were so excited to see his personality emerge as he interacted with the public. He was eager to meet everyone and shamelessly clowning around for belly rubs. He was respectful to the other dogs there and never missed a chance to plant himself on someone's feet. What a social butterfly!! Besides turning quite a few heads, he made us very proud to call him our own.
"Words cannot even begin to tell you how much I love this big lug. He's a power house, but his heart is huge. Loves attention and is very dog tolerant. Other than the bad crop job, this dog is near perfect. I can't believe he's in boarding — he could easily live with other dogs. I have a houseful or this dog would be on my lap as I write this. Please foster or adopt him today. He is HW positive and doing well with his treatment. LOVE LOVE LOVE this dog!"