Posts
https://mabbr.org/wp-content/uploads/2013/04/hamburger-marys-2014.jpg
269
616
MABBR
https://mabbr.org/wp-content/uploads/mid-america-bully-breed-rescue-mabbr-1.png
MABBR
2012-03-09 08:48:11
2017-01-30 11:15:31
Bingo Night at Hamburger Mary's Friday, February 3, 2017 at 7 pm
https://mabbr.org/wp-content/uploads/mid-america-bully-breed-rescue-mabbr-1.png
0
0
MABBR
https://mabbr.org/wp-content/uploads/mid-america-bully-breed-rescue-mabbr-1.png
MABBR
2011-12-15 11:29:10
2016-08-08 15:41:43
Bingo Night at Hamburger Mary's
Join us for Bingo at Hamburger Mary's on August 31, 2011. Our special guest is Tom Kane, the voice of Yoda in Star Wars: The Clone Wars. It's only $10 and there will be raffles and great prizes! A portion of the proceeds will benefit MABBR.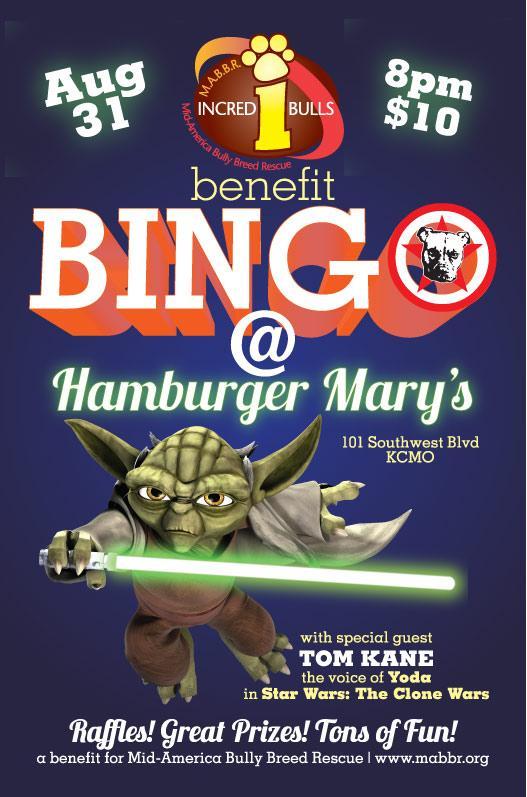 https://mabbr.org/wp-content/uploads/2011/07/bingo1.jpg
440
940
MABBR
https://mabbr.org/wp-content/uploads/mid-america-bully-breed-rescue-mabbr-1.png
MABBR
2011-07-27 09:04:04
2016-08-08 15:42:07
Bingo Night at Hamburger Mary's – August 31, 2011
MABBR is entirely funded by donations. Our expenses include pet vaccinations, spaying and neutering, parasite treatment, and medication for any pets with special needs. Additionally, we must pay for boarding for dogs waiting for foster homes to become available.