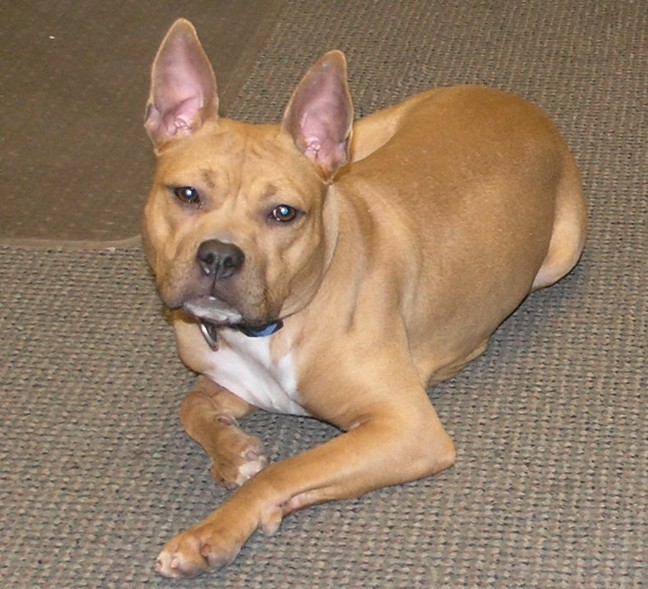 She is everything anyone could hope for in a puppy. she's curled up on the bed in her blue sweater (it's finally gotten chilly here, and she's got no extra padding to keep her warm!)
Blissed out new parents Jess and Stephen
Nicknames:
Tiny Baby
Interests:
Playing, snuggling, playing!
Pet Peeves:
Not having a home
More Photos
My Story:
Frenchie was abandoned and ended up on deathrow in the shelter. The moment we met her, we were in love. She's truly very special.
We really have no idea what mix of dogs that Frenchie is. Full grown she is only a teeny 25lbs. An adorable little package. She has the face and ears of a French Bulldog, the precious buggy eyes of a Boston Terrier and the perpetual wagging tail of a Pit Bull. She has a little bark like a tiny dog and runs around the yard doing zoomies like a bully breed. She's like having all of our favorite breeds all wrapped into one.
Frenchie is very outgoing and adores everyone. She is a handful though and needs an owner who is prepared to work with her and take her to obedience training. Frenchie has a lot of energy and needs frequent excersise. She will need a patient owner who is ready to wear her out. She gets bursts of energy throughout the day where she acts more like a freight train than a little dog!
She can also jump nearly any fence and is quite the escape artist. A 6ft privacy fence is required of her new home.
Frenchie loves other dogs. She has no idea that she is just a itsy bitsy little thing and runs and frolics with the big dogs like she was their same size.
This precious girl has so much personality and is very special. She has an unmatched zest for life that is contagious and it is impossible to be around her without her joy for life rubbing off on you. She has a whole lot to give. When she is tired she is a lap dog and loves to be snuggled on your lap whenever she's not doing zoomies or playing with her toys. She is learning crate training and good manners. We are also working on housebreaking.