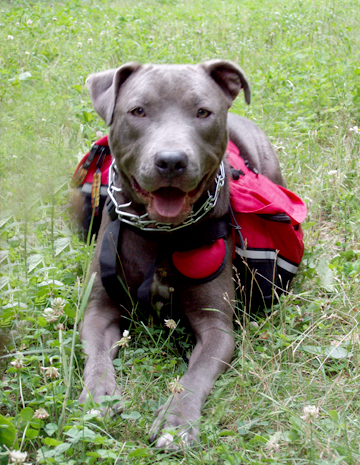 Belly Blue
Favorites: Peanut Butter Kongs! Tennis Balls, AKC Ducks, snuggling with his foster mom, Playing with his best girlfriend Baby Lee Cakes, LOVES obedience class, Playdates with other dogs, foster mom's socks, loves to wear his doggie hoodies when it's cold, Fur now that he has it! loves
Pet Peeves: being bald, male dogs who steal his bones, toys, or food; the ladies can have anything they like
My Story:
Piglet's tail never stops wagging. Thus his nickname Piggle Wiggle It. This guy is a real clown. He loves
life and isnt afraid to show it. He loves to play with other dogs and with people. One of his favorite games
is fetch. He loves to catch a tennis ball up in the air. He loves his daily walks, and would love to run with someone. He has a backback that he is very proud of on our hikes. He knows his job of carrying everyone's water is very important. He has completed
basic obedience. He knows sit, stay, down, rollover, down, off, leave it and walks well on leash (i still use a pinch). I have been told by several people that he was the best dog in class. He responds well to a
spray bottle or stern voice if he ever needs to be corrected. Piglet was almost completely bald due to a
stress induced case of mange. He was manourished and unsocialized. After almost a year in foster care,
this little guy has done a 360 physically, mentally and spiritually. In order to continue his great progress, he will need a strong leader with previous pit bull experience, or someone very dog saavvy. He
needs regular exercise EVERYDAY and a lot of personal attention and love balanced witha stern command. If you are looking for a loving, handsome, loyal, trained dog who will keep you rolling with laughter most of
the time, then Pigs is your guy!