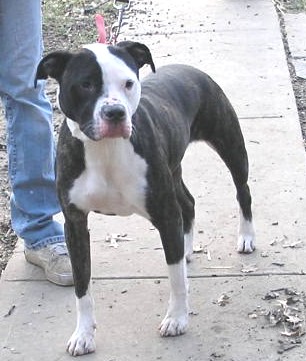 Ruby is currently in boarding, and she would love a home or a foster home. Being in boarding is hard on all dogs, but it is especially difficult for those that have known what the good life is all about. Ruby is keeping her chin up and being a very good girl in the boarding facility, but I'm sure on the inside she is very sad about her new situation. Ruby is a gorgeous brown brindle. She is very flashy and she has a personality to match! Ruby looooooves people. I don't think she's ever met a stranger. Ruby is very friendly and likes to give kisses to everyone that she meets. A little sweet talk and this girl wags her whole body in excitement. She is a true "wiggle-butt" through and through.
Ruby is very eager to please and would fit right in almost any home. She loves to play and has the energy to go on long walks and adventures, but she also loves to snuggle and would make a terrific couch companion. She's really just a perfect girl!
Ruby has recently been introduced to a male dog and it went wonderful!! We think she can go into a home with a friendly male. She needs time to warm up and get used to her new 4-legged friends, but once she's comfortable she enjoys the company very much. Ruby can also go as an only pet. She's pretty flexible and really just wants to find that home she so deserves!!
Please open up your heart and consider adding Ruby to your family. She promises to be a good girl and make you very happy!