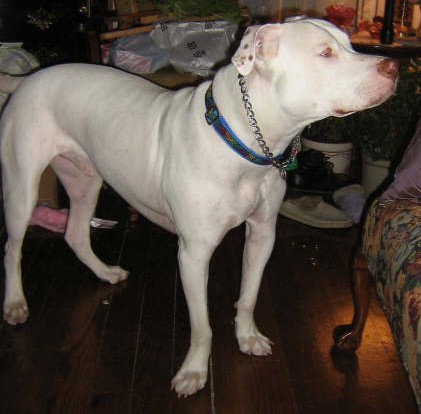 Jacks has spent his whole life being loyal and loving to everyone he meets, including licking the officers that came into his home to rip him out of it. Can you imagine? Giving hugs and kisses to those who are going to take you away from your family?
Of course Jacks doesn't realize what is happening, we are thankful that he doesn't know he is feared and has been sentenced to death simply because of what he looks like. So sad how humans continue to repeat the same ignorant mistakes over and over again…..
We have until December 31st to find Jacks a safe place to go. He urgently needs a foster home or adoptive home. His family is unable to move and unless Jacks finds somewhere by then, he will be impounded by the city and put to death.
This gorgeous loving boy is a total gem. He loves everyone and everything. He gets along very well with other dogs. He has been to training camp where he also excelled. He is perfectly house trained, and knows tricks too. He deserves a long and happy life safe from people who hate him just because of how he looks.
Please find it in your heart to help this boy find a safe place.