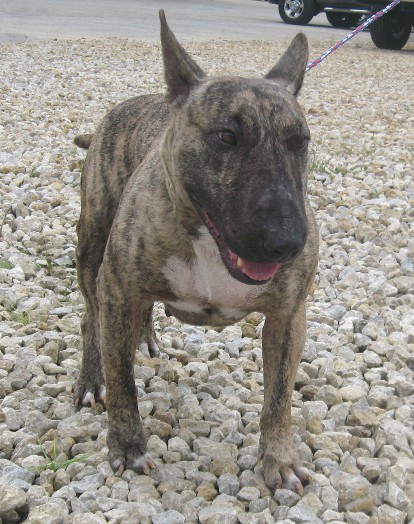 Freedom was rescued along with several other bull terriers from a puppy mill situation where she was used to produce litter after litter of pups for profit. We are so happy this sweet soul has made it out of that situation and into our program where she can find a real family that can love and appreciate her for the rest of her life!
Freedom is slowly adjusting to her new life, but she is a trooper! She is getting along well with most dogs she meets, she and Creed are good buddies who enjoy playing together! Although good supervision is a must as she can get testy with female dogs. She is thoughtful and inquisitive, a little pushy like any Bull Terrier, but very responsive to leadership. She walks well on a leash and loves to go for rides in the car. Freedom deserves a wonderful family that will love and cherish this fun, quirky and sweet gal, and teach her how great a dog's life really can be!
Freedom is shy at first and takes a little bit to warm up to new people and surroundings. She needs a patient family who will help her build confidence and socialize her properly in new settings over time, but not force her into uncomfortable surroundings and expect perfection. Once she is comfortable, she is very loving and affectionate and likes to be close to her people. She is a wonderful and gorgeous gal who deserves a committed family after all she has been through.