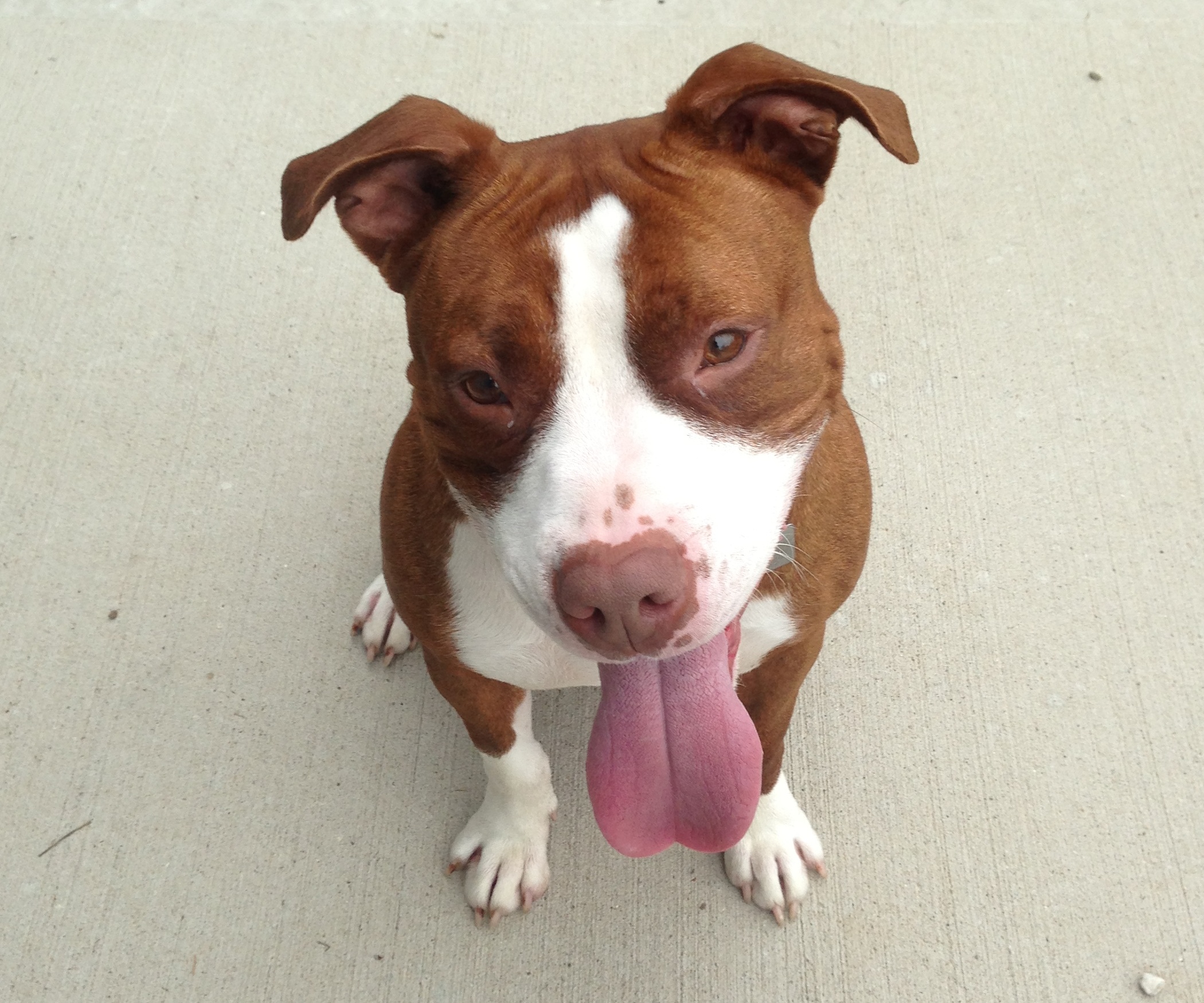 After being picked up by animal control, Columbiana's owners decided they didn't want her anymore when they were told she would have to be spayed before she could be returned to them. She's been through quite a lot for only being in this world a little over a year. Animal Control was dispatched about a dog being abandoned in a basement. When they arrived, they heard a dog crying for help inside a cold basement on a very cold evening in February. They could see through a gap in the garage door and saw something they will never forget. Columbiana was tied to an I-beam in the basement and she had no food or water. It was so cold they could see her breath as she barked at them to help her. They were unable to gain access that evening but the next day they were able to find out who her owners were. Luckily, the landlord gave them access to the house but when they got there she was gone. Her owners had come back for her. Many months later, a call came across the radio that a pit bull was at large in front of a middle school. The school staff stated that the dog was very sweet and just wanted to say hello to everyone. When Animal Control arrived, they discovered it was Columbiana – the same dog that they had tried to rescue from the basement!!  She came right to them with eyes that pleaded for help.  And that's when they contacted MABBR.
An update from her foster mom 4/16/13:
Goof alert! This wiggly, smiley, smooshy bundle of love is so goofy and smiley, it's impossible not to be charmed instantly. Her silly antics have earned her the nickname Noodle, and she's looking for a family who wants to spend time showing her all of the good stuff in life—walking, running, learning new tricks, snuggling, swimming and fetching. She bonds quickly, and will look to her new best friends for guidance, structure and love. Though she settles in nicely when at home, she needs her daily recess outside to run, play or fetch to burn off energy.  Columbiana is dog social, takes cues nicely from other dogs and plays well with dogs who tolerate her exuberance and go-go-go style of play. She's working on her manners and training, and will need someone who wants to continue bonding with her by continuing with obedience classes. (She'd be a great agility dog!) She's responsive, food motivated and eager to please, so she's the ideal dog to make into a great breed ambassador.
Adopted! 05/19/13
Columbiana is headed to her new life in Portland, Oregon. We couldn't be happier for her or her awesome new mom!
Location –
Fostered by Alyssa and Craig
Weight –
50 lbs.
House Manners –
Potty trained YES
Children –
Good with children YES
Other Pets –
Good with dogs, not tested with cats
Sponsorship Status –
Sponsor Needed