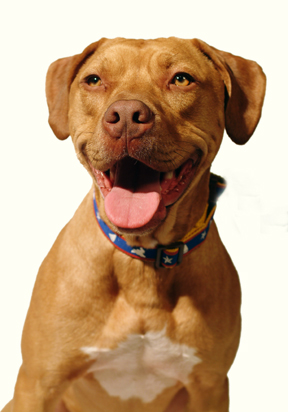 Snuggling, kissing, sitting in laps, being with YOU!
Pet Peeves: Loud noises, large groups of people
My ideal day:
I would love to wake up in bed with my people, go outside, chase a
squirrel. Then come in and eat breakfast, go for a nice long walk,
then come home and sleep. I like to end the evening with a giant
snuggle to my favorite humans and PLAY with my foster sisters!
My Story:
Deuce made it to MABBR because he was the last remaining puppy from
his litter. His mom and dad are both purebred APBT's. We agreed to
welcome Deuce into our program if his parents were spayed and neutered
so they couldn't produce any more litters adding to the pet
overpopulation. So this boy is not only a sweetie, but a hero for
saving other pitties too!
Deuce is 10 months old and absolutely gorgeous. He is too sweet for
words. He absolutely loooves to snuggle and bonds quickly with those
around him. He's a little freaked out by his new situation so we are
taking things slow and giving him time to get used to all the changes
in his life. He's coming out of his shell quickly though and starting
to show how happy he is to be alive and healthy.
Deuce is currently in a foster home with 3 other dogs that he gets
along with wonderfully. Deuce loves the companionship of another
canine friend; he seems to feel more comfortable with another dog
around to show him the ropes. He got a puppy sister and being around
her lit up his life. They play, kiss, snuggle and lay around together.
Deuce is still learning to trust all people. He had a hard and
unstable life, and we think he spent a lot of time in his kennel. He
gets nervous when things are different, but he is getting better and
better. Deuce is starting a basic obedience class coming up, and loves
going for leash walks. He requires nothing more than a flat leash and
he doesn't pull. Deuce would be great in a home with another dog,
children and with a large loving family. He is a little afraid, but
not spooked- he just needs to gain some confidence…
If you want a perfect little guy who only needs
confidence, this is the dog for you- he is easy, sweet, potty trained
and absolutely loving.