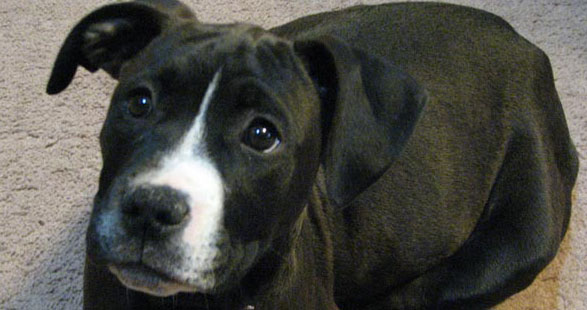 Fable is currently living in a VERY social household. I have a 3yr old daughter, and a 9yr old step-daughter who visits every other weekend. She has done FANTASTIC with both of the human kids!
I also have 2 Basset Hounds (Rosie and Bridget) as well as Boomer, our Staffy Terrier, who came to us through MABBR earlier this year. (He hasn't quite decided what to make of Fable just yet…occasionally, he acknowledges her.)
Fable is VERY smart, and is learning quickly. Her first day here, she was very leash-shy, and wasn't too fond of going outside. With the help of Rosie and Bridge, she is now FAR over that fear, and does fantastic on a leash and going outdoors. She comes back to the front door on her leash, and sits on the porch to be let in. VERY smart!
She's also picked up on the words "sit" and "lay down"…and is discovering that "lay down" means instant belly-rubs. ;-)
I brought her with me this past weekend to my family Christmas party. She did PHENOMENAL! She played with a few of the older "kids" that were there (my cousins, ages 14 and 12) as well as some of the adults. She got a lot of love and "lap" lounging. I was very impressed with her behavior, and have been since day one.
She's very animated as well. You can just about tell what she's thinking by looking at her. She also loves to lick toes and feet. Occasionally, she will steal a sock, and even tries when your feet are still in them. ;-)
She's going to be an awesome dog. Anyone that has seen her has been RAVING about how gorgeous she is! Her color is turning more brown now, and her brindle stripes are starting to show.
She just loves attention and people in general, and I fully plan on keeping it that way! I firmly believe she will certainly do best in a home with other dogs, and will do good with kids. Probably at least 3yrs old, or older, because of her size.
She also does great in a kennel, and has exceeded my expectations for her age. We are still working on house breaking, but we have made some GREAT improvements in just a week's worth of time.
One thing I have also discovered though…she won't let me out of her sight. ;-)
So it's going to be a little tough seeing her go…But I know she will certainly give Pibbles a good name!