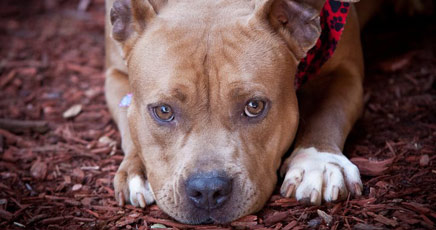 Location –
Latte is currently in a foster home.
Weight –
40-45 lbs.

House Manners –
N/A
Children –
Good with children

Other Pets –
Good with dogs and cats
Sponsorship Status –
Sponsor Needed

Looking for a cute snugly snorting best friend?! Have we got the pitbull for you!! Latte will keep you company for many years to come! She is not only a beauty knockout, she is also hilarious!
Latte pals around with her MinPin foster brother. She is being fostered around dogs, cats, toddlers and older children, she does well with all of them. She loves to lay on the sofa and get under the covers with you. Grab her lil squished up face & she snorts like a piggie! Her favorite past time is playing catch with a ball, you will get worn out from throwing, before she gets tired of fetching & retrieving.
She is kennel and house trained. She needs to have a privacy fence or be on a lead, because if she gets bored in the backyard, she will jump the fence to wander & explore. She also loves to have a Kong filled with frozen peanut butter in her kennel while you are off busy at work. She is still a puppy, so she is still in that mouthy & chewing stage, but all puppies go through it & she listens well to directions and discipline. She has some energy that can easily be run off by some butt runs, playing catch, or a good walk around the block.
You must meet this lil lady, she is quite the gem!
Latte found her forever home! We wish this awesome girl the very best!