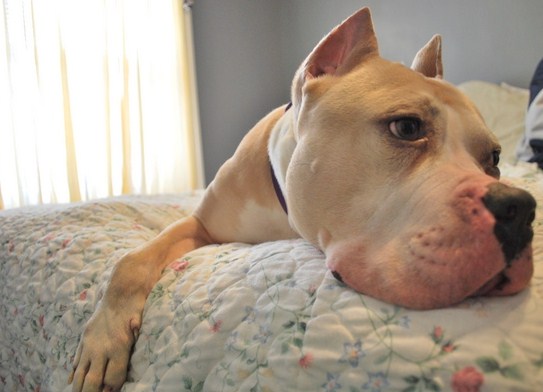 Please note that Lennox must have a 6 foot privacy fence at his new home- no exceptions. Local Kansas City area adoption preferred.
My name is Lennox, and I am one lucky dog with several guardian angels. I am a champagne and blue fawn colored American Staffordshire Terrier, aka still a pit bull. I'm between 2-4 years old, housebroken, crate-trained, know lots of commands, ride wonderfully in the car, can fetch like a champion, snore and make grunting sounds like a pig, and can be a nice watchdog. I certainly do a great job of alerting my people about any noise I hear inside or outside the house. I leave a serious mess when I eat and drink, leaving slobber marks on the floor, my dog bed, the couch, and anything else in my path. My jowls are more like a mastiff than your average pit bull, so if you're fine with my drool, we might be a good match.
I can be a very laidback dog, sitting at your feet while you read or watch tv, quiet and gentle, but at the same time, if I don't have active owners, our love affair won't last. I absolutely love to play ball and run and frolic in the yard. I get riled up easily when we play chase and wrestle, so I would not fare well in a home with small kids. My foster mom is working with me on not jumping up on things- she says I listen very well and am getting better everyday in response to her commands. I am very handsome and my intimidating looks might give the wrong impression of me. Instead, I am a teddy bear with big green and gray eyes that are very soulful- my muscles and big head are just a front. When my foster mom leaves the room, I follow her- not because I have separation anxiety, but because I am devoted, her shadow, and again, am active and engaging. I want to be a great breed ambassador (my foster mom says I am one of the best dogs she has ever fostered), and need responsible owners who will keep me safe and out of harm's way. I am currently around 65 pounds but skinny and will be a 70+ dog when I am at my ideal weight. I am very beefy and strong, so I need someone who is physically able to handle me. I have been good for the baths I've received, but the nail clippers give me the creeps! So far, I have not been destructive and can be trusted to be left alone in the family room with my blankets and toys and haven't ruined anything. I still enjoy my crate as it is loaded with lots of soft blankets and a bolster bed.
I live in a home with other dogs, sleeping in the same room with them at night and playing under supervision, am learning all the house rules, and bonding with my foster mom. When I was at animal control, I met a cat and did 'okay', although I have been told I can never be left alone with one (I was a little too excited when I saw a smaller kitten so I do have a prey drive). I also hung out with a pregnant pit bull at animal control and played with an english bulldog. I had some allergies when I was first saved but take benadryl and am improving with good food (my muzzle and paws were so red- something to be aware of in the future). I have been fully vetted now and look better every day. My foster mom is searching for a wonderful forever home for me where I will be recognized and appreciated for the treasure she knows I am. In the meantime, I get to take daily trips in the car to my extended foster family, frequently meet new people and charm them, play in a big backyard, eat lots of great food and treats (high quality food is a must!), and am safe and warm. I am now just waiting for a great forever home. Please email my foster mom with any questions you might have about me.
**A reminder that dogs are a LIFETIME commitment! Do your homework before adopting. Just as you would not give up your children when life situations change, one should not give up a beloved family pet. Unless one has become completely destitute, there are almost always options for making it work. Moving, having children, acquiring a second job, etc., are rarely good excuses. Only 1 in 600 hundred pit bulls find homes as the majority of shelters do not adopt them out. Our job in making great placements has become increasingly difficult as the economy is declining. Adopting a pit bull makes room for us to save another deathrow dog. When people break that commitment and we have to take a dog back into our program, another dog loses his/her life at the shelter, as well as a great deal of stress on the dog being returned. Thoughtful planning for the LIFE of one's dog in truly a matter of life and death.
Location –
Lennox is currently being fostered. He is fostered with several other dogs and getting great socialization.
Weight –
70 lbs.
House Manners –
Lennox is house broken and crate trained.
Children –
Good with children
Other Pets –
Good with dogs, not tested with cats
Sponsorship Status –
Sponsor Needed