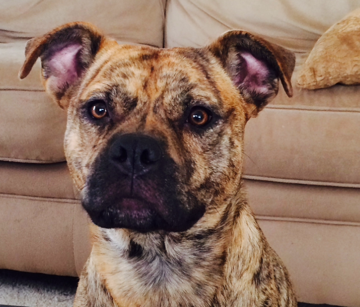 Share me!
I lived next door to some people who got a pitbull puppy then abandoned her out on a second floor deck last winter. After many days of knocking on their door to tell them it was too cold (7 degrees) for her to be outside I finally told them I would call the police. They ultimately surrendered her to me.
I already had 3 dogs of my own and Moxie was very happy to be part of the pack, but had to learn a lot of manners and house training since she had always been outside. I have spent almost a year with her house training and teaching her some manners because I felt like she would have a better chance of finding a good home.
I am looking for some help to find her a forever home. I didn't intend to have her this long, but like I said I wanted to make sure she was house trained. She is 18 months old, spayed and up to date on her shots. She is very playful, wiggly and wants to snuggle all the time. Her favorite game is tug-o-war so she will go dog to dog trying to entice one to play with her.
Contact Emily at emvano@msn.com for more information.