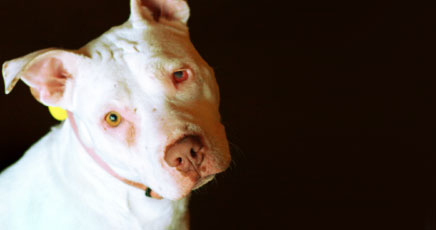 I was abandonded and was trying to survive life on the streets in a town where bully breeds are not allowed.
Not only was I homeless and pregnant, I was also shot in the face with a shotgun. When I was close to giving birth to my babies, I fortunately stumbled upon a loving home with lots of kids and other animals. A week later I gave birth to eight beautiful puppies.
Since they were unable to keep me in their own, eventually I made my way into MABBR's program. Since then, my puppies found good homes and I've been living like a spoiled pet in a wonderful foster home.
I'm a happy-go-lucky princess who loves to clown around and cuddle. My foster parents have a doggy, Cooper, who I play with non stop. He can't keep up with me! When I'm done playing nothing beats finding a warm lap. Who says you have to be a toy dog to love a good lap? Not me!
I am the happiest dog, because I know what it is like to suffer. I've taken right to being a house pet and am completely housetrained. You'd never know I spent even a day on the street – I'm just a gorgeous, spunky and fun-loving little girl with a bright future. All I need now is for the right people to adopt me and love me forever!