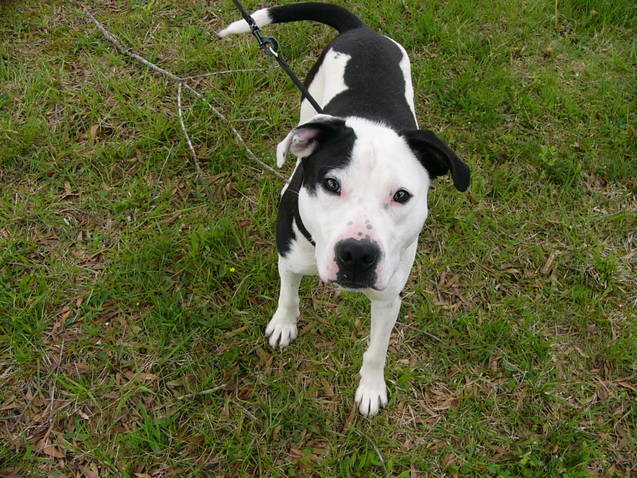 Share me!
Location –
Wilkesboro, NC
Weight –
50-55 lbs.

House Manners –
House broken
Children –
Yes

Other Pets –
Good with other dogs.  Cat friendly.
Sponsorship Status –
Sponsored by KiKi Stark

Sancho is a smart, strong dog, not submissive. Sancho was rescued as a stray at 4 months old. His guardian had 2 GSD/Chow pups that did not accept Sancho. He was then placed in a boarding facility. Sancho has had several training sessions and done wonderfully with other dogs there, but funds for boarding are all but gone.
Sancho is now about 11 months old and fully vetted. He is a strikingly handsome Pit pup. For his safety, due to the other dogs in residence, Sancho was placed in boarding with a dog trainer. Sancho is described by the trainer as a very energetic and outgoing Pit pup. He loves people and plays very well with other dogs, both male and female. Sancho has shown no dominance or aggression toward people or other dogs, except when he is eating or around food, and then only with regard to other dogs. He needs to be kept away from other dogs when he or they are eating: problem solved! Sancho is a high energy boy who loves to play with his tennis ball and will fetch tirelessly, even catching the ball on the fly when necessary.
Sancho now walks well on lead and has learned not to greet people so enthusiastically by jumping on them.
Notes from Sancho's temporary Guardian:
Re CHILDREN: I think Sancho would want to play and run with a child as he did with me. He was very respectful when I took his toys away. When it was time to put them up, I would put my foot over the toy and say "mine." Sancho would back up, sit and wait. Sancho would do well in a home with a calm, assertive person
Re CATS: I have two house cats. Sancho was curious about them and reached to smell them when he came into the house. I never made a big deal other than at the first sign of heading in their direction I would say "mine." Sancho would sit and wait. My cats never flinched. I think if a cat he doesn't know ran by him he would chase it because he likes to run after tennis balls. I also think if the cat stopped and challenged him he would cower. The owner would have to establish that his/her cats are part of the owner's property to be respected from day one.
Re FEEDING: I had no problems at feeding. I fed him and the other two dogs in the same room, each one at their place, sitting and waiting, Sancho in his kennel with the door open. I did not allow barking, whining or any excitement, however long it took. Sancho did not seem threatened by the other two dogs over food, or didn't show it.
My feeding ritual was to feed the others first, by seniority, then feed Sancho a couple bites from my hand. I would then place his dish under his chin, allowing him to take a bite and then I would remove it. I repeated this once or twice, trying to get him to trust me and also not eat like a vacuum cleaner. Then l would set his dish down and close the kennel door. I could say "mine" and remove his dish whenever I wanted and he would sit back and wait.
Sancho always ate very fast so I would put a pig ear dog treat with the food so he would stop to lick the ear and chew it. I also sometimes added peanut butter so as to force him to slow down. It was a work in progress.
I know Sancho would be loyal, loving and fun. He would take walks with you, ask to have his tennis balls thrown so he can fetch them for you and then come back to rest and lay at your feet. He loves to be talked to and is very sensitive to hand movements. Sancho loves tummy scratches and has a way of leaning his head to one side to understand you better.
The trainer said she picked a stick off the ground one day and Sancho cowered, indicating that his previous person may have hit him. He is not aggressive with people and wants to play with other dogs.
Sancho has a very keen sense of smell, likes to track and as a puppy showed an interest in following birds in flight. If something surprises him, he can jump very high and when insecure, he picks up one paw like a hound dog.
Sancho needs his forever companion and would be best placed in a Pit savvy home where he can receive a lot of attention, affection, direction, and exercise!! Anyone seriously interested in adopting Sancho will need to complete a rescue application, provide vet and personal references, and agree to a home evaluation.
If you are interested in this very special pup, please e-mail or call LeeAnn Bowling at leeannbowling@charter.net or (336) 452-2514 or KiKi at fsumommax4@yahoo.com or (573) 268-3975.