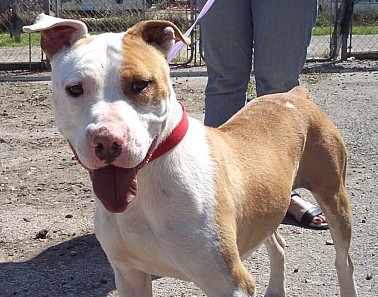 Interests : "Fireplaces, blankies, warm laps, snuggly dogbeds, fluffy
comforters, laying in bed with you, giving lots of good kisses, car
rides, walks. He is FANTASTIC on a leash!
Pet Peeves: Other dogs, but only if I am off leash around them. On
leash I am a darling. How about being left outside in the freezing
cold and almost starving to death?
More Photos
About Me: Poor ol' Shiv just wants his forever home. He dreams of it… When he comes over for a weekend visit, his eyes fill with hope that perhaps
he will stay here forever… It is heartbreaking to know that I am not
the right person to give this old soul his forever home.
He adores all people, and wiggles up to everyone who walks through the door. He should be watched because he does love to jump into your lap and he isnt small. He will need basic obedience because he is a little rough around the edges, but he is SMART and learns VERY QUICKLY!
He knows to sit at street corners when on a walk, and he knows that to get a treat he has to sit. We walk him with our pit bull girl and they walk side
by side with no problems whatsoever. He is a good dog, who deserves a
good home.
He is awesome because he is both a "mans dog" and a "mommas
boy" he loves to sit around and play video games and eat cheetos, but
he also loves to snuggle in bed watching girlie movies.
He is a great guy… Please give him a chance!!!
My Story:
Starved, frozen, and left for dead, Shiver was saved just in time.
Found by a good samaritan, parts of Shiver's body were frozen solid when he was picked up. His testacles were frozen through and his penis was stuck out and also frozen. He had frostbite on his ears, paws, and down his legs. He was extremely emaciated and the flesh on his rear froze to the cold, hard ground and was ripped away when he attempted to stand.
After all he'd been through, you'd think this dog would either be skittish or fearful of humans, since it was human negligence that almost cost him his life.
But no – not Shiver! He holds no grudges. When we first met him, he was frozen so stiff he could barely walk -yet the only thing on his mind was wagging a tail he couldn't even feel and crawling into a nice, warm lap. This dog is a true testament to bully breed dogs' abilities to forgive and forget.
Shiver is brand new to the MABBR program and we will need your help to fund his recovery. Please help Shiver by donating to his medical fund today. All donations are tax-deductible.
We hope everyone out there will learn from Shiver's story and in the future bring their pets in from the bitter elements.
Thank you to everyone who has written and donated for the care of this wonderful boy. Shiver is recovering very well and we feel really confident that he'll make a full recovery.