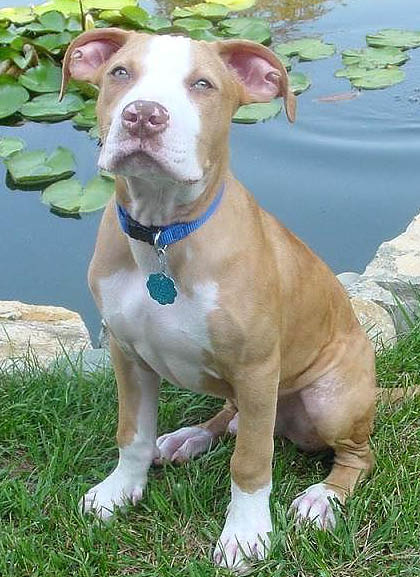 Beau was bought from a breeder by a man who soon realized that dogs were not allowed in his apartment. Instead of trying to find Beau a new home, he chose to dump him off at the local high kill shelter. Beau was pulled on his very last day and is now safe in a foster home with two older dogs that are showing him the ropes.
Beau is absolutely stunning. Beau has the most adorable little red splotched nose and he has a beautiful red/fawn coat that is painted with a deep red merle across his back. When he looks at you, you're instantly pulled into his rich green eyes. Beau's neck, face and chest are blazed with a brilliant, clean and crisp white. He will surely be one gorgeous boy when he is all grown up!
Beau is about 4 months old and is an energetic little guy who is in constant wiggles! His spirits are always high and he's never un-prepared to have a good time! Beau is doing excellent with his crate. Beau whined only the very first night he was crated, since then he's been a little angel. Beau has been crated at 3 different places besides his foster home and hasn't made a peep. He is almost completely housetrained, and as long as you understand his "I GOTTA GO PEE!" signals, he will not have an accident in the house. Beau is an absolute DREAM when he is all by lonesome with no other 4 legged canines around. The little guy is just a complete mamma's boy and ever so needy! It would be fantastic if Beau could find a home with without any other dogs so he could soak up all of the attention and love for himself! Beau is being fostered with an adult male and an adult female pit bull that are showing him
proper doggie etiquette so will also be able to join a family who may already have a friendly female.
Beau is a super cute puppy who absolutely adores his people. He's already crate trained and 99% housetrained. Beau's getting tons of great socialization with all sorts of people and other dogs. Geez, all of this amazing stuff AND he's a rescue?!?! What more can you ask for!!! If you think you can provide Beau with a perfect forever home please apply today!