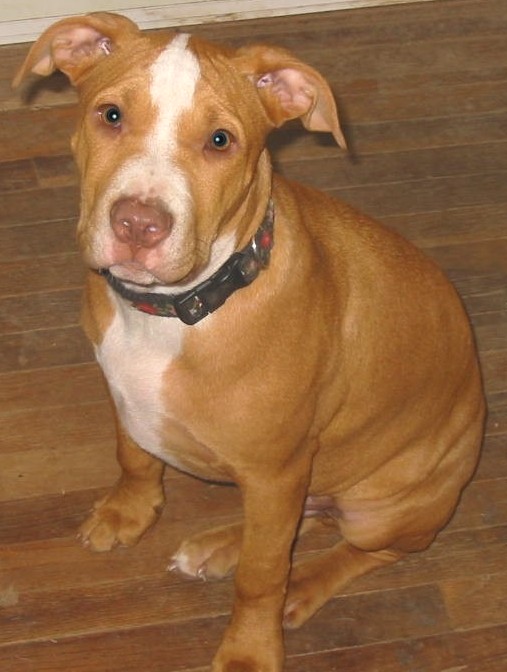 Georgie is now in foster care with several other dogs and cats! He is getting tons of socialization to make him a well mannered and enjoyable companion.
Georgie is a wonderful puppy with the personality of a prince! He loves to play hard in the back yard with the other dogs, both adults and puppies. AND he is very respectful to the resident cats.
What more can we say about this adorable boy? Everyone is familiar with "Everybody loves Raymond"….well in Georgie's foster home it is "Everybody loves GEORGIE"
This little guy is approximately 5 months old and is a Rednose Pit Bull, possibly mixed. He has been neutered and had 3 sets of puppy vaccinations. Georgie would love a home with a nice female dog and/or a cat. He needs a fenced yard with lots of room to play. Not to mention a place he can "sunbathe".
This little survivor deserves the BEST forever home and his foster parents will be strict on his placement…No same sex placements or applicants that do not have adequate outdoor exercise area/yard. All other dogs in the home must be spayed and current on their vaccinations. We only want the best for Georgie and finding his forever home is our priority! Georgie's adoption fee is $150, which covers a portion of his medical cost related to his neuter and vaccinations. If you would like to meet Georgie or have additional questions, please contact his foster mom, Paula, at 816-455-8803 or K9ResqAngels@kc.rr.com