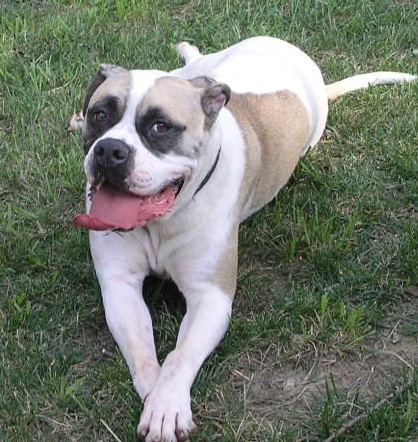 Our Brown-eyed girl hasn't stop reminding us why we did. She is FABULOUS! Holliday is sweeter than words can express. She is just a great big bundle of wags and kisses and adores everyone and thing she meets.
We can't stress how personable and affectionate she is. She adores people and wants nothing more than to be by your side. She does forget she's a big dog every now and then, as she LOVES to climb into your lap. She is not overly pushy though. She is truly a very good girl. Holliday is a great example of an American Bulldog. She's super friendly and very beautiful too. This girl will make the right home very happy. She is strong so she needs a home that is used to large breed dogs. She is very responsive and eager to please, so we feel she will do wonderful with positive training. Holliday is veeery smart and trys hard to figure out exactly what you are asking of her and then to do it for you.
Holliday does excellent with other dogs and she would do wonderful with a male dog companion.
She's won all of our hearts over immediately. She's funny, loving, loyal and just an all around joy to be with. She deserves a home all her own.