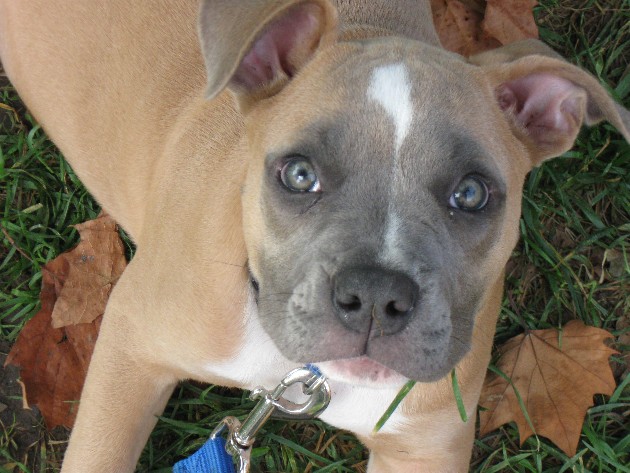 This unbelievable little female American Bulldog puppy has quite the story. Her owner/breeder relinguished custody of her to a shelter up north- she was only four HOURS old (she will be 9 weeks old on September 2nd, )….She came into the world with what appeared to be swimmer's legs (but were not), and the breeder decided she was too defective to sell. Little did he know that her legs would straighten out just a short time later with no ill effects.
We are told by the shelter that Roxi's mother and father are 100 pound purebred registered American Bulldogs, and that the owner was selling the pups for $1,000.00 each…..She has a very unique coat color- almost a blue fawn- with very striking eyes and natural ears. She somewhat slightly resembles an Alapaha Blue Blood Bulldog. Her legs are like little tree trunks- strong and athletic. Her stance is already quite powerful looking- she is going to be a spectacular beauty when an adult.
She is currently being fostered by a wonderful woman, her daughter, a male mastiff mix, and two cats. Her personality is outgoing, lovable, playful, happy, and she wants to hang out so badly with the big dogs- no fear in this little gal. She will certainly require a strong owner who is dedicated to making her an exemplary breed ambassador. No same sex placements, fenced in yard required, and obedience classes mandatory. She is being crate-trained, working on her housebreaking skills, being well socialized, kid tested, and all those other things that will make her an exceptional canine companion.
Please email us with questions.