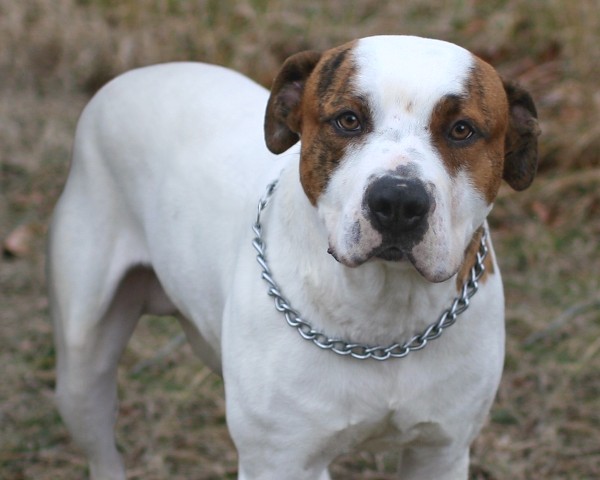 He is a bit on the skinny side right now, weighing in at 75 pounds (he could gain 5-10 pounds more and will be a truly stunning beauty). He has the sweetest, most lovable, and sad face you have ever seen.
He was originally picked up as a stray- an AC officer was making his rounds and saw George prowling the streets. He pulled over the truck, and this American Bulldog boy just jumped right in!
He did his best to win over the hearts of everyone who has ever met him, having several guardian angels assisting him along the way. The AC officer shuffled him around as long as he could, stating that the dog was "just too good to go down". He begged the local humane society to take him, where again, he won many hearts, until space and time made his stay there an urgent case. He was shuffled around until they could find him a safe place to go.
That is when we were contacted. This was George's lucky beginning. One of our volunteers happened to be headed down to Arkansas to save another needy dog, and they were able to meet up with George's caretakers, and now he is with us!
George is super with people, loves to have his ears and belly rubbed, rides beautifully in the car, and is a leaner. He is a dominant three year old though, and would probably do best as an only dog or possibly could reside with a small female canine in his new household (we found out he is not a fan of cats!!).
He has been fully vetted, so this should help. He is very strong and will need someone who will teach him manners and general obedience.
A privacy fenced in yard is important so he can exercise safely, and it is clear he will love going for walks as he wants to get out and do.
He would also make a fabulous running partner!! We have plenty more to find out about this handsome American Bulldog and will update his bio soon. Please email us with questions.