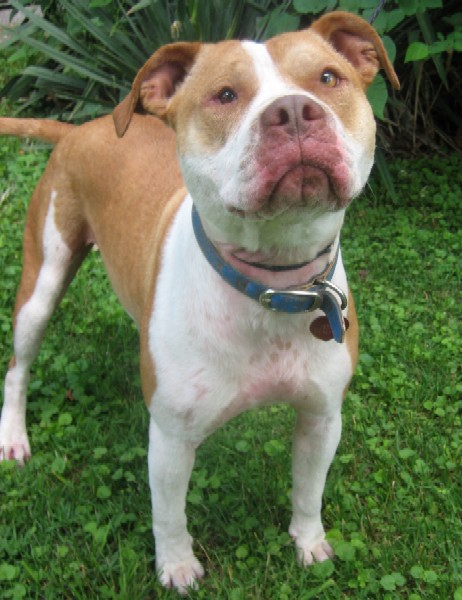 Peachy, Peach Pie
Peaches received her name because at time of rescue she had no hair and was just covered in "peach fuzz"
Favorite Things:
Loves car rides, pig ears, water hose, playing with Lenny, going on walks, chasing my ball, and most of all people!
More Photos
Peaches Dogster page
My Story:
Peaches was dumped along with her best friend Lenny and thankfully spotted by a good samaritan. They both had severe demodex mange and were completely bald at time of rescue.
Peaches has since made a full recovery and has been waiting for her forever home for over a year…..Please don't make her keep waiting….she's ready for you!
About Peaches:
Talk about a cool gal. Peaches has blossomed into such a charmer. Completely healed from her long battle with demodex mange, Peaches has turned out to be one adorable gal.
She is very eager to please and has been through formal obedience classes. This fun loving girl is very food and treat motivated and would do excellent with continued positive training. She wants nothing more than to please her people.
Peaches does well with other dogs and has been fostered with them. She is kennel and house trained and does her best to do whatever is asked of her.
She is very in love with Lenny, and spends her days with him by her side. She "mothers" him. They share a very special relationship.
Peaches loves to play and could spend an entire day playing with her ball. She is also a cuddle bug though and is a terrific snuggler. She would love a family of her own that she could nuzzle up on the couch with.
Peaches had entropian in her left eye and has had surgery to correct it, however because it was left untreated for so long, she is partially blind in that eye. It doesn't get her down or dehabilitate her in the least though.
She is all around terrific and would make and excellent companion. She has been so patient waiting and waiting for her forever home to find her. She's such a good girl she'd never complain, but nothing would make us happier than to finally see her find the home she's been waiting so long for.
Please open up your heart to this very special girl..