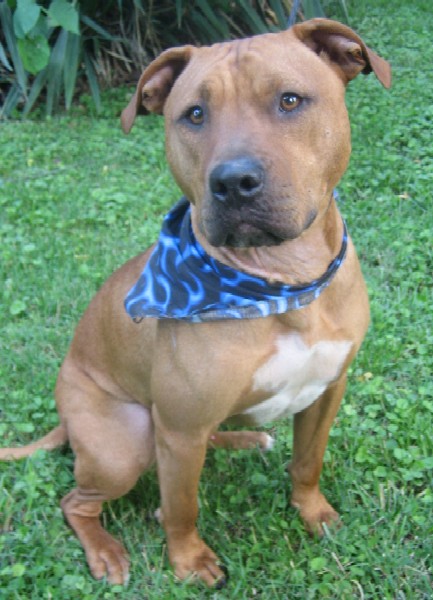 Lenny was named after Lenny Kravitz
Favorite Things:
Loves car rides, pig ears, water hose, playing with Peaches, going on walks, chew toys and most of all people!
My Story:
Lenny was dumped along with his best friend Peaches and thankfully spotted by a good samaritan. They both had severe demodex mange and were completely bald at time of rescue.
Lenny has since made a full recovery and has been waiting for his forever home for over a year…..Please don't make him keep waiting….he's ready for you!
About Lenny:
Lenny turned out to be quite the hunk. He's got a stunning red coat with a little white blaze on his chest. The best part about him however is his personality. Lenny has been fostered with other dogs his entire time in rescue and does wonderfully with them. He is kennel trained, house broken, and very eager to please.
Aside from people, his second favorite love in life is Peaches. They get along so well and love each other very much. They can play together for hours. When they get worn out, you can always find them snuggled up and laying on each other. Their relationship is very special.
Lenny is very treat and food motivated and would excell in continued reward training. He wants very much to make his people happy and tries his best to do whatever is asked of him.
Lenny loves to play and would really thrive in a home that likes to go for runs or take long walks. He is a social butterfuly who is always ready to meet new friends and loves to greet and interact with all new faces he meets.
What more can we say? He's fantastic and we just can't understand why he hasn't found his forever home yet. We know the wait will be worth it though and that his home is coming soon. Is it you? Nothing would make this special guy more happy.
*Because of Lenny and Peaches special bond with each other we would prefer to adopt them together.