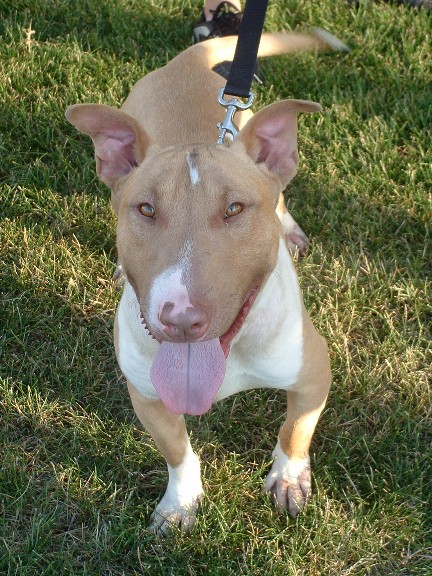 Thankfully he has found a wonderful foster home who is completely dedicated to getting him back into good health. In just a few short weeks he has made tremendous improvemetns. His coat is getting shinny, he's gaining weight and his old wounds are healing.
The most amazing thing to see though is his spirit coming alive. When Bentley first arrived he didn't know what a toy was, had no clue what it was like to play, to be cuddled, or to even be inside of a house. Each day he learns something new about the world and life, and each day he embraces it fully. He is very special.
Update 7/26 from foster family:
He has made things very interesting around here.
We take him for walks about every other day or every couple of days. When he's not on walks, he is wrestling and running around for most of the evening with our dog. Yesterday we went in a different direction on our walk, which had more people around and his true strength capabilities and personality came out. He needs work on how to walk on a leash. He was never aggressive, didn't growl, and didn't show signs of aggression when people, children, and other dogs came by. He was very curious about them, and he wanted to lick and meet them all.
He's still learning his name. If you make a kissing noise or clap it grabs his attention and he will most likely come to you. But when saying his name he isn't always aware that we are talking to him. Potty training hasn't been bad. He's only had one accident in his crate and a few accidents in the house.
He LOVES his rawhides. And he finishes those in about every couple of days. He's curious about most toys. He likes to chase after the tennis ball or any other toy that we throw. He LOVES to wrestle and play with our dog!!!!
He's forming into being a very handsome looking dog. His bacterial infection on his legs and paws is making noticeable improvements. The swelling has gone down and the redness on most of the areas is lighter.
About me:
The "olde" Bentley-an automobile of distinction.
The "new" Bentley-a Bull Terrier of distinction!
This late model (possibly early 2006) Bentley is destined to become an owner favorite. It's classic, elegant lines are evident in the un-mistakable hood ornament. Another standard is the wide body styling, enhanced by the limited edition factory paint job. It's a very handsome two tones, fawn over white.
This package also features, a luxury headrest, and a theft deterrent with audible alarm. The exhaust system is rivaled only by that of the APBT.
We only have one available on the showroom floor, so don't delay!