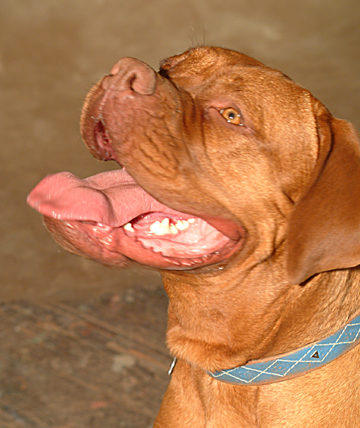 Note from Buella:
Bonjour Darlings!
In case you couldn't tell, I am French. Viva la France! People say that I am a classic beauty, even though I have a very large under bite. I am a leetle bit self conscious about it. You know how they say that the camera adds 10lbs? Mine is all in my mouth! I have very sensuous lips, all natural without a trace of collagen. Mr. Mick Jagger hasn't got anything on me! I am very soft and have nice skin. I could probably use a little boob lift, but who couldn't? I maintain a very svelte figure with little bother. I am nice girl, but can be kind of snobbish. I think I would do best as the only pet in your household. I'm quite cosmopolitan and well versed in many subjects, so I have no doubt that we could find many things to talk about. If we run out of things, we can always talk about me!
Au revoir,
Yanca
About Buella:
Please note the restrictions on this dog- we will not make exceptions to her placement. Buella will not be placed into a home with children as she is a sensitive girl. She must have a secure 6 foot privacy fenced in yard. We prefer a home for her where there are no other dogs unless the other dog is an older laidback male who has no interest in other dogs. Bordeaux or other mastiff experience is definitely preferred by a future adopter. She is not a dog for first time dog owners, and this will be verified by a veterinary reference. Sorry but no long distance adoptions as we will do a followup home visit.
While Buella is an exceptional dog in so many ways, she does take time warming up to people- this breed is generally reserved with strangers and can be guardy of their people and property. She has bonded very deeply with her foster mom and follows her around the house, loves to go for her three walks a day, and eats and eats and eats. She has a very ripped and athletic build and we are working on keeping weight on her. She is a messy eater and drinker- with those large jowls, who could blame her! If you are worried about keeping your furniture and floor spotless, this beautiful girl is not the dog for you!She eats about 6-7 cups of high-end expensive dog food everyday as well as homecooked meals (these are broken up into three meals a day). She had just had pups before coming into rescue and was incredibly skinny. Slowly but surely she is gaining muscle and filling out.
Buella is being well socialized with 3 other large male canines in her foster home and does great with them, however, they are all very relaxed and calm and do not invade her space (b/c of this she really likes them). She is following their well behaved example. She will need someone who is loving but will stay firm to house rules and making sure she stays safe- we practice obedience daily and it is obvious she is relaxing with consistency and structure. At this time, she is not allowed on the furniture but has two extra large crates in two different areas of the house as well as several dog beds. More information coming soon. Please email us with questions.