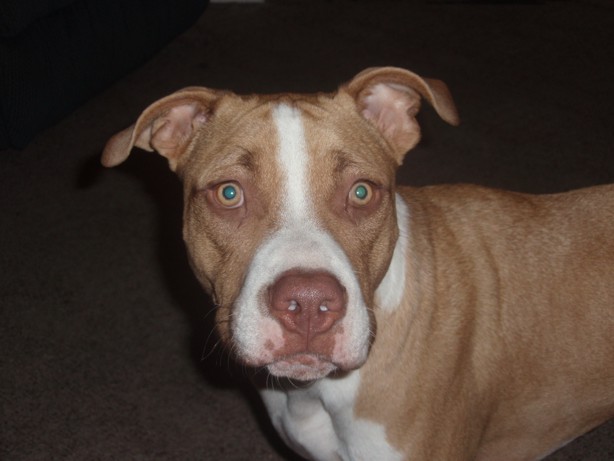 I have been to basic obedience training and did well. I do know, sit, stay, down, leave it, watch, heel, touch and soft mouth. I also know hand commands for sit, down, stay. I am potty trained, crate trained, car trained and off leash trained. I am a jumper, and in my new home will need a 6 foot privacy fence with a tall gate.
I am a very loyal loving fella. I do use polite manners when in public. But I can stress in some situations like large gatherings. I can get over whelmed but, I never act out. I just hide behind whoever has my leash and need to get my thoughts about me again. But with gentle coaxing and loving words, I am quite the gentleman.
When meeting other dogs out in public I am generally a good guy, but if you stress then I stress and I can behave unbecomingly. I do need a firm hand when being introduced to new dogs its not that I don't want to be their friends and play, I just need extra adjustment time. I don't like to share toys so I only play with them when being watched or in my crate at my foster home. I would prefer to be an only dog child, or have a very submissive sister. ( if you would like 2 children check out my sister Maugy, she has lived with me my whole life.)
Kids are great but it does depend on their age. Young children that are jumpy and grabby are not very popular with me. I prefer teenagers and adults.
I would love a forever home that would meet my needs. Someone that would relish over me and I would do the same for them. I love to be with my foster family and spending time with them. It's my favorite part of every day.
My hobbies are long walks or runs. I love to run along side someone, I think I would even like it if my owners were to bike ride or roller blade. I can have a tendency for being highly active. But when I have been exercised and played with I like nothing more then to snuggle up and watch a little television. I love long car rides. Tug of war is another favorite game, or fetch, and swimming oh how I love to swim.
All in all I have had an enjoyable life so far, but there is 1 thing missing and that is possibly you. Please inquire about me. I would hate to miss out on another wonderful moment with my new family.