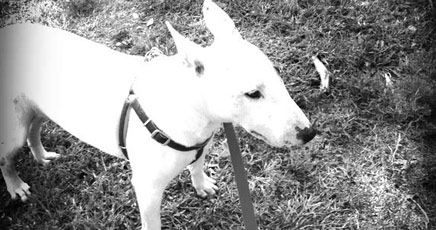 Location –
Abby is currently in a foster home.
Weight –
40-45 lbs.

House Manners –
Housetrained
Children –
Good with children

Other Pets –
Abby does well with other non-aggressive dogs. Shows no interest in cats.
Sponsorship Status –
Sponsored by Alison Saunders

Abby was rescued in Texas when a man spotted her being dragged down a dirt road behind a truck. She's had a pretty crap life which included having all her teeth ground down with a rasp, being fought, and being shot twice in the hind legs. She's looking for someone who can understand her sensitivity and give her the life she's always deserved. Right now we're getting to know Abby and will add more to her bio as we learn more about her.
9/28/11 – Abby is really starting to open up. She's an incredibly affectionate dog and loves to be near her people. At night she'll climb into bed and crawl over to put her head in your lap. During the day she loves to be in the room with you and will occasionally come over to have pets and rest her head on your lap. Her teeth are going to be something we need to really look at before she's ready for a new home. They're a mess and I can't imagine that they are comfortable to live with. She's incredibly sensitive and needs someone who is all about positive reinforcement. Even standing too quickly can frighten her. A simple "uh uh" is more than enough to stop any unwanted behavior. With only 4 days in a new place we look forward to seeing her blossom even more! So far the potential for just an incredible companion is shining through.
UPDATE: Abby was adopted by Lola!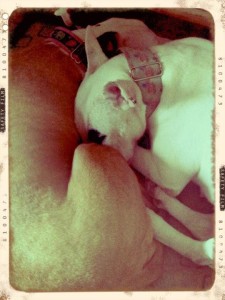 Sponsored by Alison Saunders.