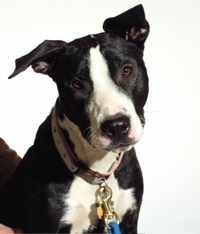 Big puppy, Sweet puppy, Love Bug
Interests:
Dog Park- I am the best dog park dog in the world- I get along with
everyone!
Pet Peeves:
I don't like getting yelled at, or having anyone mad at me- I really
just want a snuggle.
My ideal day:
I would wake up, chase my foster sisters around the back yard- go to
the dog park- put me in the crate for a nap, come home and let me
lounge around the house for another few hours- I like to watch movies
with my humans and get petted on my back.
More photos
My Story:
Aqua's breed is cleverly referred to as a "plab". She is probably a
pit bull/labrador retriever mix. Though many have told us that she
looks to be part great dane- She has a velvety coat that will make you
want to do little else besides pet her. She also has a very sweet
face, she is simply adorable! Aqua loves people (especially kids) and
playing with other dogs.
Aqua got her name from the pond in the back yard. She looooooves to
swim and will make the prefect lake dog. She can go swimming for hours
on end and never gets tired. In fact, she she swims at least 15-20
times per day and her foster parents have been unable to keep her out
of the pond! She also has a kiddie pool she loves to play in with the
kids.
Aqua is PERFECT in her crate- she lays right down and relaxes. She
loves rawhide chews and doesn't chew up much else- though she likes to
chew on plastic bottles (water, soda, etc). She loves to play- and
spends a lot of time in the yard with her foster sisters. She is not
an escape artist- she is perfectly content playing out back for an hour.
Aqua is is fun-loving and has lots of energy. She would be perfect for
a family that goes to the lake a lot, or someone with kids and another
dog. She would even be a great dog for someone without other dogs,
when she is alone she is really mellow- but she will need a daily trip
to the dog park to get that lab energy out of her.