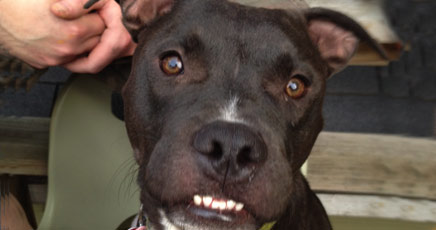 Location –
Anchovy is in a foster home.
Weight –
40-45 lbs.

House Manners –
N/A
Children –
Good with children

Other Pets –
Good with other animals with appropriate intro, pretty much ignores cats.
Sponsorship Status –
N/A

Looking for a jogging partner, or someone to hike with? Maybe an adventure buddy? This is your guy! Anchovy is a young, fit, energetic boy looking for someone to love. He will keep up with you all day and cuddle with you all night. He absolutely LOVES people. He also does an amazing imitation of Chewbacca on command. Anchovy is seriously one of the funniest most personable dogs I know. He is personality plus and will keep you laughing all day long.
Anchovy, was pulled from KCPP in hopes of becoming a service dog. While he is smart, fun, and perfect in every way, apparently he wasn't exactly what they demand of a service dog. Anchovy is fine with that! He'd be happy to be someone's constant companion anyway. He's awesome on leash, is quick to learn just about anything you want to teach him, and is already a great clicker training student. His only flaw is that he loves to be with his person as much as possible! We're working on accepting that you need to be away some and it's going great. He'd be an awesome dog to go to work with you tho, he loves to just sit at your feet with a toy. Plus he has the BEST smile on the planet!
Anchovy LOVES to play and would do well with another dog that enjoys a fun loving guy. For off-leash The Chove does need a 6 ft fence, he's capable of clearing a 4 ft fence without a problem if he is motivated by another dog or someone he just HAS to meet. This wouldn't be a problem for a jogger or dedicated walker.
UPDATE 12/17/12: Our Chove has been adopted! He's joined an awesome family that previously adopted Libby, so he's got a built in sister too! YAY!!!!