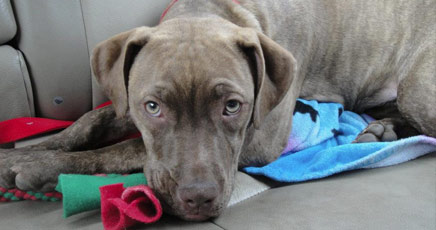 Location –
Kalua is in a foster home.
Weight –
25 lbs.

House Manners –
N/A
Children –
Good with children

Other Pets –
Good with dogs, not sure about cats.
Sponsorship Status –
N/A

Kalua is a sweet little girl who is GREAT with other dogs.  She's very shy at first but warms up quickly.  She enjoys snuggling and playing.  She was part of an oops litter and was given away and then given back.  The owner was unable to keep her and was going to take her to the pound.  Fortunately, she is with a wonderful foster mom and foster brother now.  She is looking for a loving family who will take her on walks and play with her and who enjoys LOTS of pittie kisses and snuggling!  She is about 25 pounds right now and a little thin, but looks good.  She hasn't had any exposure to cats yet, but does well with all people and dogs.  She is being spayed, getting her shots, hw testing, hw preventative, flea prevention, and getting her nails trimmed on March 20th.  Please put in an application at mabbr.org and it will be forwarded to her independent rescuer for review.  We are looking forward to hearing from you!