Location –
Stringer is in a foster home.
Weight –
25-30 lbs and growing!

House Manners –
seems to be paper trained, working on house training
Children –
n/a

Other Pets –
n/a
Sponsorship Status –
Sponsor Needed

Stringer is brand new to the program. He was found as a stray by a couple of past adopters with huge hearts! He seems to be about 4-5 mos old as of today, St. Patrick's Day. He is a playful puppy that loves to run! He's smart as a whip and has already learned to sit. We think he's going to be a big boy! He's just now going into his foster home so we'll let you know as we learn more about this adorable boy.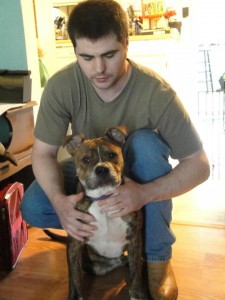 Stringer is now Oliver and living with his new family! We're so excited to see him starting a new life!