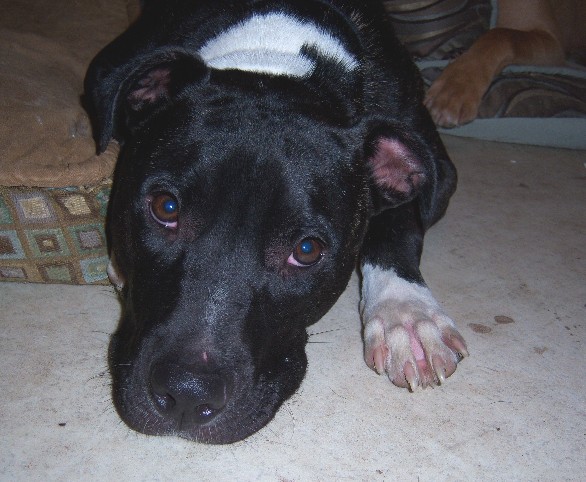 My name is Bosco, I am a young, handsome brindle APBT. I am pretty
much the epitome of a bully with my short legs, small muscular body
and super goofy smile. I have been dealt a pretty bad hand in life,
yet I have the most outgoing happy personality. I have never met a
person or dog I didn't like! When I walk into a room the entire place
lights up with my smile and happy go lucky personality! Don't get me
wrong, I do spend a lot of time sleeping in my bed. My foster mom
describes me as "excited yet mellow" whatever that means! I love life,
walks, rubs, kisses and attention, but right now as I am dictating
this to my foster mom, I am passed out in my bed just happy to be
alive!
I am super smart too. I know, its hard to find a bully who isn't smart
but… get this: I learned "sit," "wait," and "lay down" the first day I
moved into my new foster home. That's right folks… I am very easy to
train! My foster mom is working on heel, stay and shake right now. She
is a real stickler for training… I want to jump up and kiss her, but
she wont let me. I was a jumping bean when she first brought me home,
but I am quickly learning that I am not allowed to jump on people. She
says I am terrific on a leash too, I don't pull at all, but I prefer
to run around at the park! I also have a super soft mouth, I love
children and I would never nip a finger, even one holding tasty food!
I don't know what else to tell you other than the fact that I am
athletic, so I do need someone who will exercise me, I am amazingly
well behaved but Ill need an owner who will continue to work with me,
and I am sweet, so I need an owner who will let me cuddle and snuggle
with them!
Love, Bosco