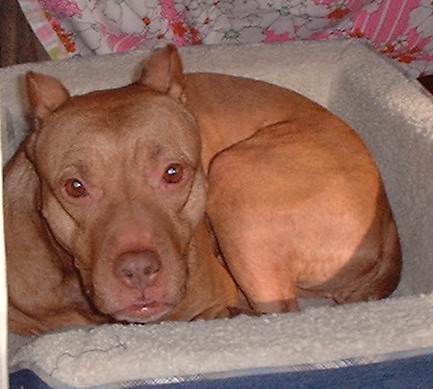 Chai was shy the first week she was here in my home, but don't let that discourage you. Considering what she has been through being rehomed two times and now being seperated from her sister she has adapted very quickly. She is completely housebroken, listens very well and stays very close to me in the yard.
Adoption of Chai would require constant supervision in the yard. Although she listens well, she is very fast and very agile. She can easily clear a four foot fence, this is why constant supervision is a must. She loves to get the zoomies in the yard and would love a good size yard to run in. Although she gets the zoomies and loves to run in the yard, she is super mellow in the house and knows her place.
She never chews anything up, she kennels up perfectly and actually enjoys being in her kennel while you are working or sleeping. She is a joy to have in our home and almost takes care of herself. She would be perfect for any home including children, other dogs, and cats.
She knows how to sit, kennel up, beg like a little monkey, hence her nickname Monkeygirl. We are working on lay down and she already knows how to lay down providing you have a treat. She is very smart and learns easily but like any bully can be slightly stubborn. She loves snuggling on the recliner with her foster dad, canned food and taking afternoon naps.