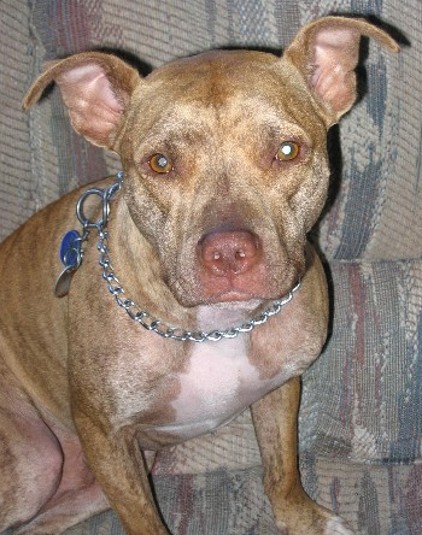 UPDATE: Chance has passed his obedience classes and now has his Canine Good Citizen Title!! Way to go buddy!!
Nicknames:
Buddy, Tigger
Interests:
Playing, running, snuggling, giving kisses, car rides, meeting people.
Pet Peeves:
BSL!!!!
My ideal day:
Every day I'm alive and loved is ideal to me.
Chance aka Tigger, has tons of fun hanging out with his foster brother and sister.
My Story:
Chance is another product of Breed Bans. His family moved from the east coast to a midwest town that had a breed ban (unknown to them at the time). The owner was forced to let him go when they found he was no longer welcome in their town because of his breed. Then Chance made it to a no-kill organization, but he couldn't stay there either because of bias against the breed once again. All this hype and bouncing around and Chance had spent his life up to this point being a companion service dog to his owner. Talk about unfair ;(
Chance is a very special dog. He's the perfect size, only about 45lbs full grown, and he loves to please. Chance does well with older kids who can keep up with him. He does okay with cats, and loves to play with other dogs, too, big and small. He's perfectly house and crate trained. Rides great in the car. Chance is a great all-around package.
He is working with his foster home right now in obedience training and is a star of his class. He should have his Canine Good Citizen title soon. Chance didn't deserve to lose his family. We are hoping with all our hearts that the right family will come along for this boy soon so that he can start a new life in a loving home with someone who will never abandon him again.