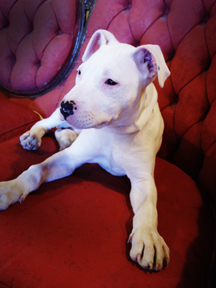 Share me!
Pet Peeves: Being alone in my kennel
Interests: Toys (especially my tennis ball and tug toys), climbing into laps, playing with my foster sisters!
My ideal day: Waking up and playing outside with my forever family, then coming in for plenty of love, attention and training. I'm a puppy and I play with anything…leaves, sticks (I drug a huge tree limb all the way up to the patio last weekend…I' m so strong!), but best of all I love playing fetch with my tennis ball. After that I would like to curl up in bed with my forever family where I would sleep the day away. Then outside for more playtime!
More Photos
My Story:
I was rescued from death row (thank goodness). I was so happy to be out of there I jumped and clawed and nibbled all over my foster mom! I couldn't control my happiness, I was super excited! I've calmed down a lot now that I know I'm safe. I learned to sit and play fetch really quick and I didn't even know what a "leash" was, but I do now. Every time I hear it jingle I know we're going on an adventure.
I am working hard to show everyone that I'm potty trained, because I know I can do it. Last night I had to go so bad, and my foster mom was cooking dinner, so I jumped and scratched at the back door and she let me out…whew.. .she's finally staring to understand what I'm saying! (now if she'll just listen when I tell her I don't want to be in my kennel…)
I love being around my foster family, just in the same room is fine. I am confused when I have to go in my kennel in the daytime, but it's okay, because that's my nap time. I wish I could sleep on the couch with my foster sisters and brother, but I guess there's just not enough room for me. I really like to play with my foster sister Trina at night. We slip and slide around the house and have so much fun! I'm not scared of my other big foster sister or brother, and I wish they would play with me. I guess I just have a lot more energy than they do because after a while they growl at me, but I understand and go play with Trina again.
My foster mom says I am soft as a cotton ball and she loves to cuddle with me. When I'm done playing I just climb on her lap and go to sleep. I just hope I can find my forever home where I have a real family to love and spend my life with.