As of 5/4/12 Danika is approx 7 weeks old. She had a rough start at life, but is such a sweet little girl. She has a lot of spunk, and a lot of love to give to everyone that will let her. She is working on her manners and doing very well on her potty training. She has not had one accident in her kennel. She is also learning that a leash is her friend and will sometimes even try to walk herself. She gets along great with other dogs. Even though she is tiny right now, she doesn't let her size fool anyone and acts like she is just as big as they are. She is camera shy, but doesn't she just have an adorable little face?
As of 9/16/12 Danika is now a bigger girl! Still puppy spunky and ready to play. At approx 6-7 mos she's ready for a family of her own and would love a big yard to play and explore, tho she's happiest by your side. Danika is very retriever and would be fine to live in Overland Park!
UPDATE 2/17/13 Our little Danika went home today! We're so happy for her and her new mom!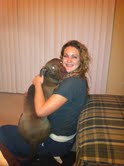 Location –
Fostered by Angie
[tab title='Age']
8 months, approx. 30 lbs.
House Manners –
Working on those
Children –
Good
Other Pets –
Good with other dogs
Sponsorship Status –
Sponsor needed