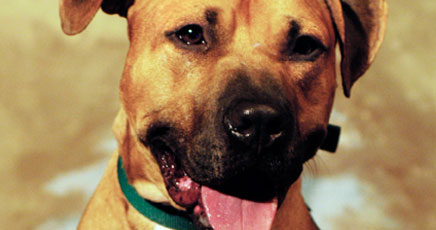 Location –
Linc is in foster care.
Thank you Tobi and family!
Weight –
75-80 lbs.

House Manners –
Linc is house trained and crate trained.
Children –
Linc is great with kids.
Other Pets –
Good with most dogs, not tested with cats

Sponsorship Status –
Linc is sponsored
Special thanks to Stacey Hsu!
Linc was rescued from a dog-fighting bust and then put in a boarding facility soon after, so he really knew nothing of the world or that loving people existed. Yet his ability to love remained unbreakable.
When I first brought Linc home, he had never been in a house with a family (or other dogs) so he had a lot to learn, but he amazed me with how quickly he learned things and his eagerness to please after all he has been through was astounding. Within a month he was fully housetrained, crate trained and had learned simple commands. The greatest things he learned, though, were that people can love him as a member of the family and that he didn't have to fight anymore and he can play with other dogs without fear of harm.
He is still learning manners and proper socialization but is making great progress. I think he is being the puppy that he never had the opportunity to be, but in a 75 lb. body, which means he has no concept of his size or strength so he can be rough, but never out of anything but excitement and joy. He loves other dogs but is still learning how to play properly so he can get a little too rough but responds well to corrections. Although he has shown amazing gentleness with my 4-year-old nephew, it would be better if he were in a home with older children due to his tendency for rough play. He truly loves other dogs and wants to play, but due to his background and lack of socialization, he would do best as a single dog or with a large, playful, and submissive female.
Linc is very happy in his foster home, where he has two dog sisters, a dog brother, two human brothers and loving human parents, but he is ready for his forever home. He is learning more and more everyday and I know he will make a joyful addition to the right family.