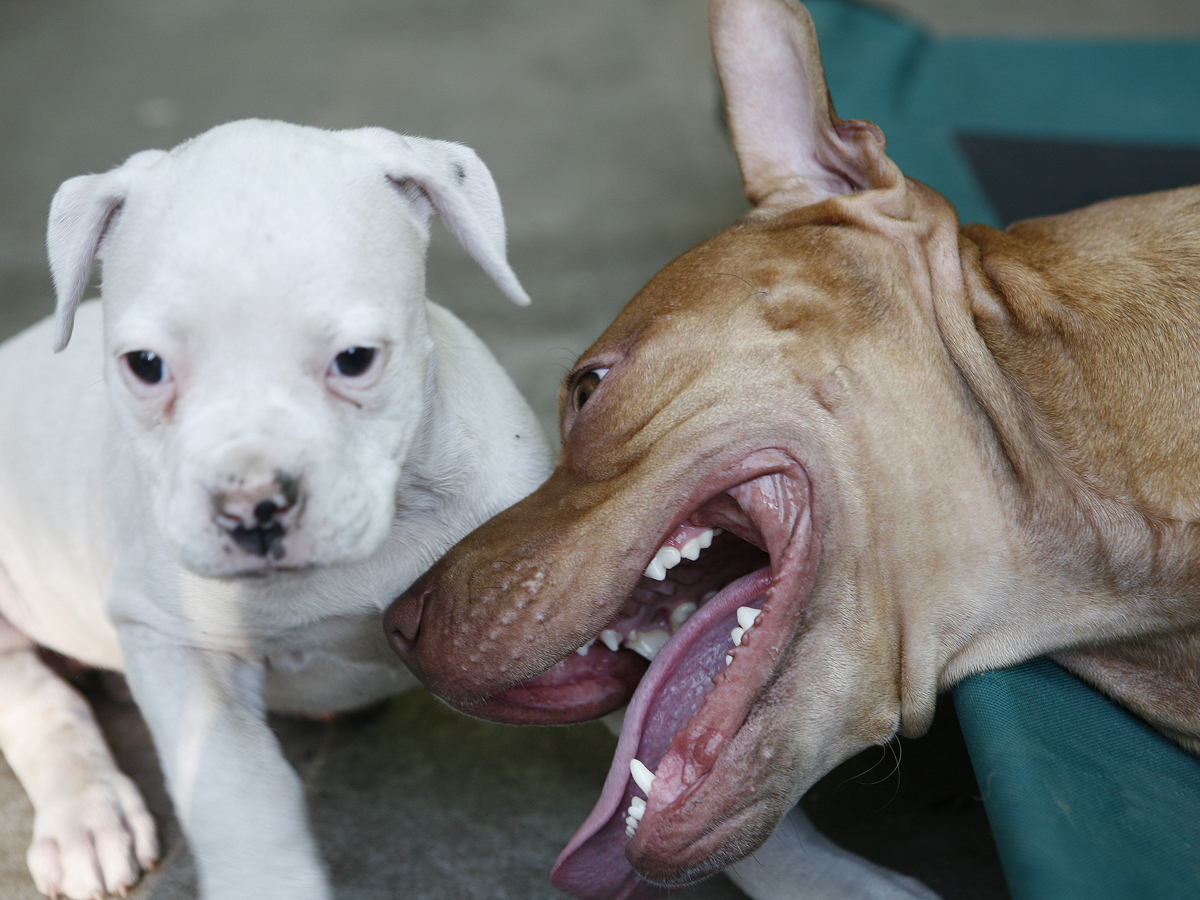 Location –
Gia is currently in foster care
Thank you Nicole C!
Weight –
55 lbs.

House Manners –
Gia is housebroken and Crate Trained.
Children –
Gia is fabulous with children!
Other Pets –
Good with most dogs, not tested with cats

Sponsorship Status –
Sponsor Needed

Gia AKA: Bobia, GIGI, Gidget the Migdget, Shorty, Pumpkin
Gia has adapted very well to home life and the idea of being a house pet. Despite her terrible start, she has embraced couch life, 2 square meals a day, daily walks, ball time, chewies and playtime with her boyfriend Pacman. Gia listens very well when she is told where to go and what to do. She willingly goes into her crate and hardly ever barks. She did very well in basic obedience and is continuing to work on her healing and stays when walking. Gia is technically a dwarf dog according to her original rescuers, Broken Hearts, Mended Souls out of St. Louis. What she lacks in stature, she makes up in the size of her heart. Gia loves people like its her job. She can be a little frightened of strange tall men in hats with big coats who enter the house. (I can only imagine that they remind her of the care takers that "tended" to the dogs from the kennel in which she was kept.) Once she realizes she's ok she'll stop barking at them. Gia loves children and the attention they give. She loves to sit on the couch, snuggle up and stare into your eyes while smiling. Perhaps her favorite things in her life are her ball toys and dog toys. She loves her walks, but extreme heat can wipe her out quickly. She loves to steal food from the other dogs in the house, so her weight has shot through the roof. She definitely can stand to shed a few pounds. Gia has acclimated very well to living with other dogs. She loves her male doggy friends, but can be naughty with other females, depending on their dominance and if she feels they are a threat to the attention from her male friends. She feels like she is a princess and the boys in the house only need attention from her. She gets along well with my passive female and not so well with my dominant female Presa Canario. She has never had a squabble over food, or treats or toys, but has over the attention of her favorite buddy Pacman. She has even done well when run up on by strange, unleashed dogs while on walks. I rescued a litter of puppies in April and she took to those puppies like she was their momma. She loved to play with them and was able to scale back her rough play style to accommodate their fragility. She is a nudist and prefers to not wear a collar and can escape out of martingales, and plastic buckle collars. So far she has done well keeping on a leather collar with a metal buckle. She also prefers that other females in the house are nude and tries to remove their collars. Gia must be watched with beds sometimes, as she likes to unstuff them. She also like to eat plastic things, so keeping her away from the recycling bin is a must. She has already had surgery for an impaction, but has done well since that surgery to not consume things that are bad for her, but i always keep an eye out for things that are potential dangers to her. Gia has come so far and is one of the happiest lil dogs I have ever met. Her tail is constantly moving and is so thrilled to know what its like to be a housepet, and be loved. The look on her face is completely different than when I first got her almost a year ago. She is always smiling. Gia will do well to live with a male dog. Gia's potential parents must be strong leaders and give her a regular schedule with rules. Gia's forever home should be aware of her past, and her genetics, but not be afraid to let her blossom, while not setting her up for failure. Gia is a game dog who came from a fighting ring bust. Her new parents must be aware of the potential for dog aggression. Gia is a dog who should never go to a dog park, but would do well meeting dogs on walks and potential play dates with dogs she knows and has been properly introduced to. Having seen how far she's come already, I am thrilled to see how far she will grow and what a great breed ambassador she can become.