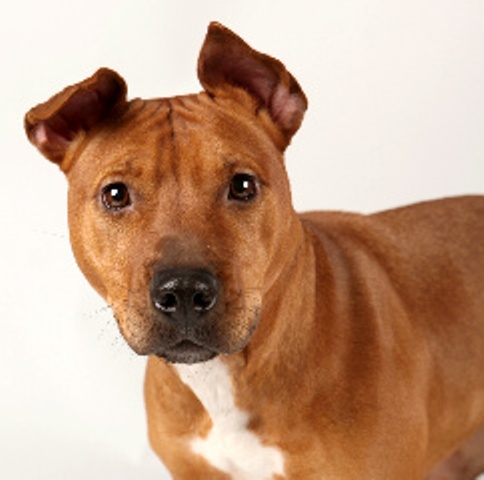 12/11/13: update from Heidi's foster mom:
Teeny, tiny, warm and wonderful Heidi is one special girl. This gorgeous girl with the Maybelline eyes is refreshingly affectionate with any human who wants her itty bitty lovin!! Just a little high pitch attention gets her prancing and spinning happy circles on her back legs and jumping up for a hug. Because of her background, she is sensitive to tone. I've loved watching her blossom as she gets comfortable in her surroundings and she keeps her foster brother hopping. She reigns like the little queen she is
Heidi is a survivor. Her and the other 77 dogs that were rescued from a three state dog fighting ring earlier this spring. When MABBR heard about the ASPCA setting up camp in Kansas City to house the dogs taken from this bust, we were excited to be able to help care for these animals in the hope that we would ultimately be able to bring some of them into our program. Several other local rescue groups, animal welfare agencies and MABBR spent months caring for these dogs while the case that resulted from the bust ran its course. The federal judge overseeing the case put it on a fast track and the ASPCA was able to take disposition of the dogs in July. Fox 4 News
After spending months with these dogs, it was hard for us to narrow down who was the best of the best. All of them were so deserving in every way. But Heidi captured our attention immediately with her silly antics and happy go lucky attitude.  Her sunny disposition warms everyone she meets and her love for a big red ball showed us how resilient she is. While most of the dogs had no concept of what a toy was or what to do with one, Heidi could always be heard batting that big red ball around in the exercise pen and in her kennel. We spent hours watching her toss it back and forth, chasing it and when it would inevitably end up stuck in her water pail how diligently she worked at getting it out.
Heidi scored very high on her evaluations over the several months she was with the ASPCA and was a favorite of many of the team responders. After a few months, the dogs were allowed to interact with one another and Heidi was one of the dogs they used to test the social skills of the other dogs.
Location –
Fostered by Dave
[tab title='Weight/Age']
40 lbs, approx. 2-3 years old
House Manners –
Housebroken and crate trained
Children –
n/a
Other Pets –
Good with dogs.  No cats.
Sponsorship Status –
Sponsored needed