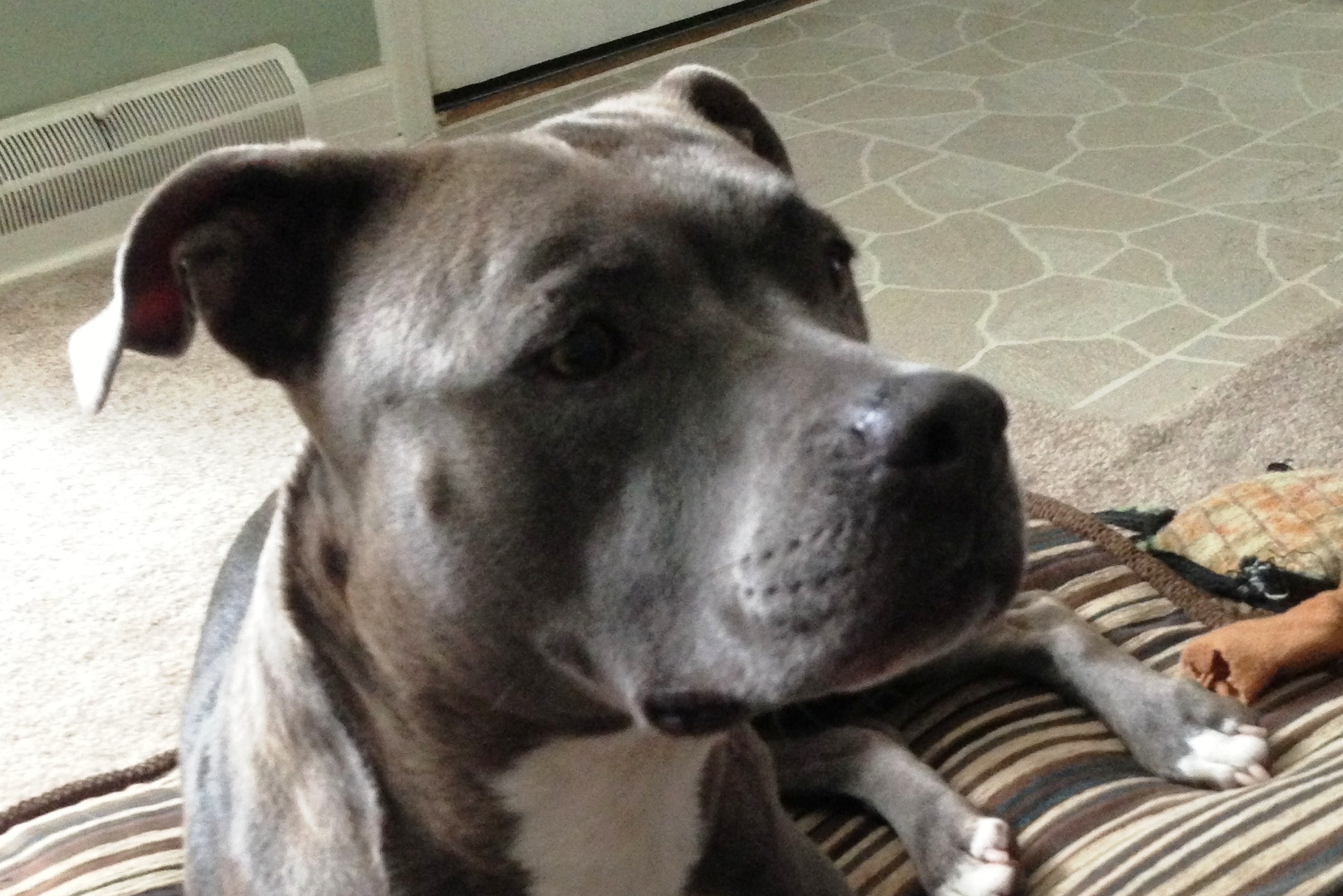 Hi there!  I'm Sabrina, the "new girl" around here!  I traveled all the way from Southern California to find a forever home in the Kansas City area.  When I was picked up by animal control for being a "stray", I had stab wounds on my neck and shoulders (I'm all healed up now, just a few scars left).  Read my story here. Although some awful people hurt me, I know not all people are mean.  You see I have a sponsor here in Kansas City who called the shelter (San Bernardino Animal Control) and saved me one hour before closing time on my "last day".  I stayed at Four Paws Inn (Banning, CA) for a few weeks while a group in California tried to find me a home but they didn't have any luck.  So, my sponsor decided it was time for me to come to Kansas City.
Even though my sponsor wants to keep me in her home, there is a stupid law about particular dog breeds that says it's illegal for her to be my mom because of where her house is.  So, she enlisted help from MABBR to help find the perfect home for me.
A little bit about me… I'm a one and a half year old, 52-pound, spayed female pit mix.  I'm a high energy girl who enjoys a long walk or jog, playing with people and/or other dogs, butt scratches, giving kisses, and getting lots of pets.  I'm working on my leash skills and have almost completed potty training.  I would really LOVE to have a home with another playful dog!  Sometimes I snore when I'm really tired but otherwise I'm the perfect lady!
Location –
Needs a foster home
[tab title='Weight/Age']
50 lbs, approx. 1-2 years old
House Manners –
Housebroken and crate trained
Children –
n/a
Other Pets –
Good with dogs. Not cat tested
Sponsorship Status –
Sponsored by Paige Musick