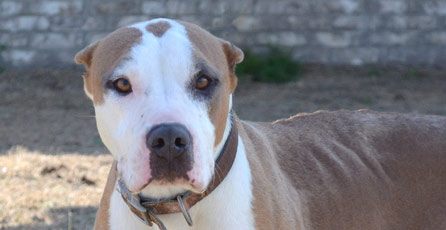 Location –
Fostered by Angie
Weight –
50-55 lbs.

House Manners –
N/A
Children –
Yes

Other Pets –
N/A
Sponsorship Status –
Sponsor Needed

Marmie is the mother of 4 of the puppies we have for adoption. She's a brave, sweet girl. She and her babies are the first pit bulls released by the shelter she came from. We don't know a whole lot about her yet, just that she's sweet as pie and loved her babies. She was transported from about 7 hours away and was happy to just sit quietly near her kids during the ride. And she really has the most beautiful eyes!
We will certainly fill in the blanks as we get to know her. In the meantime she really needs a foster home, if you are able to foster please let us know by filling out an application and putting FOSTER in the place of the dogs name. We have several kids that could use a good foster so even if Marmie's not right for your situation one of our other kids may very well be!
Update 3/4/12 – This girl is SWEEEEEEEET. I can't even properly put into words how warm and awesome she is. She's just a sweet gentle mama that needs to be somebody's baby. Loves to be petted and get kisses. Would make a great hang out chick for tv watching and long walks. Check out her eyes, they say it all.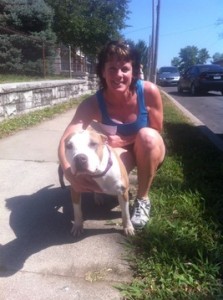 Marmie is adopted and going to a great home! Yay for Marmie!!! She did an awesome job with her own babies and now she gets to sit back and be someone's baby herself. She deserves nothing less.