Location –
Matilda is currently being fostered by Brandon and Jen
Weight –
10 lbs.

House Manners –
N/A
Children –
Good with children

Other Pets –
N/A
Sponsorship Status –
Sponsor Needed

This is Matilda, the only girl of 4 puppies that came in from a shelter in Kansas. Normally this shelter does not release pits, even to rescue, so these kids and their momma are the first ever! Like a true pioneer Matilda is a confident, happy, playful little pup. I'm not sure how helpful playful is to a pioneer but it certainly doesn't hurt! She's absolute stunning and she's held her own against 3 rough 'n tumble boys. She's 7 weeks old and ready to start her life. If you'd like Matilda to consider you for parenthood apply now!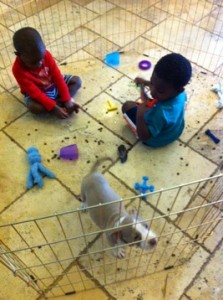 Matilda is home! Here she is with two of her new people, Landon and Logan.