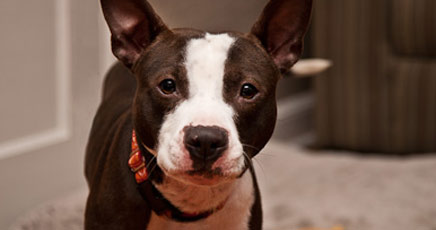 Sebastian (aka Buster) is a cute, compact young dog.  He has a lot of energy but winds down quickly and settles in nicely for cuddle time.  Super smart, he has learned a lot since he was abandoned at a vet's office:  crate- and house-training, sit, come on command and is working on stay.  While he was in boarding, he was in play groups because he does well with dogs of all sizes and energy levels.
Buster would make a fantastic agility dog or running companion, as well as an excellent couch-snuggler. He's content to happily chew on a bone or a Kong toy.  He has just learned how to play with stuffed toys and his favorite thing is to grab a toy, toss it up and run after it. He is an excellent fetcher and is learning to catch the ball in mid-air.
Buster is eager to be someone's little man and would love a house with no cats and a fenced backyard so he can show you how fast he can run.  He super in the car because it means new adventures – his favorite thing!
Update 12/9/12:
Woof! My name is Sebastian, but all my friends call me Buster. And Good Boy. I really like Good Boy. I am 2.5 years old and I weigh about 43 pounds. I'm healthy, very smart and super cute. I am house trained, crate trained, and know some commands. I love people! I love them so much that when I see them, even if it's been only 5 minutes since I last saw them, I bounce with joy. I really do bounce, like Tigger or like a pogo stick. Up and down. It's because I am such a happy dog.
My friends at MABBR want me to tell you about myself. I am very easy to please. And I'm funny. Before the food bowl goes on the ground, I put myself in 'sit' and I look away, like I'm not interested in the food (but I really am). When the bowl touches the floor, I stand up and look at the food and then eat. I do this because I have good manners before I eat.
The most important thing about me is that I am a lover. I love my people and I'm so happy when I get to snuggle with them. I always follow my friends– even into the bathroom — but I get shooed out and just lay in the hallway until they come out.  I love dogs too.  In boarding, I get to go into doggie-daycare and play with other dogs.  When I go on walks, I want to chase those rascally squirrels I see running up and down trees. I like to run. I can run with you or run in your fenced yard. My friends at MABBR think I'm faster than a greyhound too. Running makes me happy. And eating leaves too. I like to run and eat leaves at the same time. I also like to play fetch and toss my toys in the air and then try to catch them. I'm not good at catching in the air but will keep trying if you keep throwing up the toys. And I've already told you that I like to bounce. I'm a great bouncer. I can bounce over a 4 foot fence and baby gates.  Because I can bounce so high, I need a family who will make sure I don't scale their fence.  I don't mean to bounce so high or bounce out of the yard, but if I see something that makes me happy — I bounce.
I am thankful for the good life I have now, but someday I want a forever home with people who will love me all the days of my life and call me Good Boy, and give me a warm place to sleep – maybe even their laps. Oh, I can hardly wait for my forever home.  Please don't make me wait long. Lots of love, Buster
Location –
Fostered by Rachael
[tab title='Age/Weight' active]
2.5 years, approx. 40 lbs.
House Manners –
Housebroken and crate trained
Children –
Yes!
Other Pets –
Good with dogs, no cats
Sponsorship Status –
Sponsor needed